This page is designed to answer your questions about working with Craig Zabransky of StayAdventurous.com.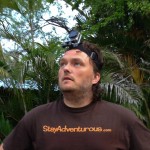 Contact
email: Craig@StayAdventurous.com
twitter: @Stayadventurous
Instagram @StayAdventurous
Facebook /StayAdventurous
Media Kit
Download the latest Media Kit>   2021 StayAdventurous-CraigZabransky
Dowload Bio > CraigZabransky Bio Jan 2021
PR and CVBs, Tourism Boards
The site often receive questions about StayAdventurous.com's reach (including social media), audience, and mission.  In addition, the founder and owner Craig Zabransky receives questions about placements of his photography and adventures in other publications in addition his appearances on numerous media outlets (TV, Radio, Podcast, Magazine Book, and on-line) as an expert. You can review the following pages or view the information in the download.
Also, StayAdventurous does accept press trips / FAM trips. All trips will be covered on the site and the readership is made aware of that it is / was a press-related trip, but all the opinions are always Craig's.
Please send invitations to: Craig@StayAdventurous.com
Advertising on StayAdventurous.com
StayAdventurous.com also looks for the following types of advertisement opportunities
Staying Adventurous Podcast Sponsorship
6 and 12 episode sponsorship available
Inquire about having your property / destination a focus of a future episode
Podcast factsheet > Staying Adventurous Podcast Media Kit April 2016
Email the Stay Adventurous team any and all questions or for next steps at operations@stayadventurous.com