In the constant search to make life easier and more enjoyable I recently received the BottleKeeper and tested it.  Yes, I often use a Villanova University koozie to keep my beer bottles cool, but with 90 degree (f) days and an even a hotter summer season in the Florida Keys, I wondered if a better option existed. Hello BottleKeeper.
What I Like: Science at Work for You, Keep the Beer Colder, Longer.

With the sun and heat, how do you keep your beer cold enough for long enough? The answer is science. Move over koozie, this "armor" plated bottle inside with neoprene (same material used in fly fishing waders) cover keeps your beer drinkable cold for a long enough time before you finish it. This is confirmed after several tests.
What I Love: No Bottles Allowed – No Problem (Or less of a problem)

I am certainly not averse to drinking a beer from a can, but let's the cold hard facts, beer tastes better in glass. Much better. So don't be afraid to take this invention on boats where people normally say no glass and buy cans… it's safe and secure with a padded bottom and stable – doesn't tip. I am not going to suggest breaking the rules on no glass policies in pools, but its safe.
Added Bonus:
The no-branded outside might seem bland, but honestly it enables you to use all those stickers you often collect when traveling to good use. I recently "tattooed" my silver one with an "island style" sticker. Although customization and options are available to purchase from BottleKeeper, left untouched, it can seem like a water bottle. Hmmm… another idea, beer is mostly water after all.
Something to Note:
Science is never perfect; the bottle isn't designed for multiple plucking beers from the cooler. It apparently needs to dry off after a use to be effective and maintain its composure and not stink.  Solution – get two or more (depending on your speed and style – I have two and rotate, things dry here quickly in the sun)
Something NEW 2.0
The Bottle Keeper just even got better with the new 2.0. Stay colder, stay safer and stay worry free even if you forgot a bottle opener, one comes attached.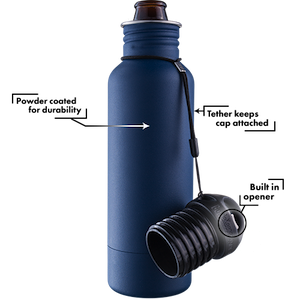 Order a BottleKeeper
For more details, including the science behind the design and to ORDER yours today  > BOTTLEKEEPER
Stay adventurous, Craig
Disclaimer: I received the BottleKeeper to test and after numerous tests, I can tell you, I use it often to maintain a cold beer in a bottle. In fact I enjoyed it so much, I am now working with them as an affiliate to enable more people to know what I already know – this is a great product.  And as with all reviews and stories, the words and opinions used are my own.