Hell's Kitchen. Today this Manhattan neighborhood certainly doesn't deserve its nickname, and in the last ten years the midtown-west location has truly transformed.  Today, some even label it as trendy and chic.
Many new hotels have opened in the neighborhood including most of the major brands. They realized that when you visit New York City for work or play, Hell's Kitchen makes a great location to spend your time. But "Where should you stay in Hell's Kitchen?"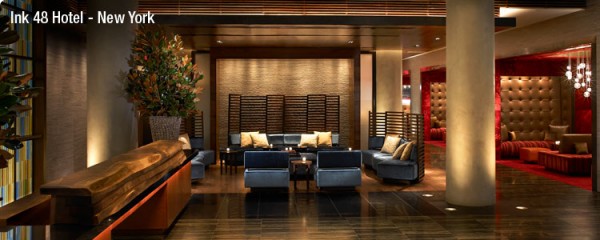 One great option is Ink48, a Kimpton Hotel property. The friendly staff greets you with a smile and the property offers amazing views, a rooftop bar, a complimentary wine happy hour, and a top-notch restaurant. It's where to stay.
Service with a Smile
As a New Yorker, I often debate how friendly New York is with others. People never believe me; New York is a friendly place. And if you come to visit and stay at Ink48 you are destined to agree with me. The warm, friendly feeling begins with a held door, polite check-in and continues all through your stay. Whether I asked for a few extra wine glasses, ice, or just walked down the corridor to my room, I was always greeted with a smile. Always.
And if such experiences don't brighten your day perhaps the nightly wine happy hour will. Every evening from 5-6pm guests can attend an hour of complimentary pours. It provides perfect preparation for a night on the town.
The Ink48 Rooftop Bar – the Press Room
The Press Room impresses with stellar rooftop views that are arguably some of the best in Manhattan, and with both indoor and outdoor seating, the lounge and views are open all year.
One direction overlooks the Hudson River and the docked Intrepid Museum. Looking east, it's the city and the skyline.  At sunset and especially after darkness descends on Gotham, these views are definitely worth the cocktail prices.
PRINT Restaurant
I rarely recommend dinning in the hotel, but here it's a must. PRINT sources its menu from local farms and delivers more than sustainability, it delivers a Zagat rating of 24 for decor, 25 for food and 24 for service. Also, PRINT was the first New York restaurant to staff a full-time forager who tracks ingredients daily from local farms and regional vendors to showcase on the menu. Check out the dinner menu.
On the latest dinner menu I tasted, the first plates were of goat cheese gnocchi and the grilled octopus, the second plate of the crispy duck breast,  and for dessert the ricotta creme brulee. I'd recommend each.
The 11th Avenue Location
Located on 11th Avenue (and 48th street) Ink48 may seem too far west for some. It's situated across the street from a car dealership – seems hardly part of the core "big apple" people come to experience, but remember, the distance does provide the special views and the chance to walk a different neighborhood.
Sure, many visitors walk SoHo, the Village, or the Meat Packing districts, but a walk through Hell's Kitchen shows a transforming neighborhood. Not to mention it's just three blocks from Times Square, the Theater District and extremely close to the Javits Center.
My Recommendation Summary.
The hotel is a Kimpton property, its patrons know what to expect and they deliver. The trendy rooftop bar and a top-notch restaurant are starting to draw New Yorkers to the property. The vibe can be younger, modern, but I noticed a few young families at the property and it is a pet-friendly hotel. Whether in New York for a long weekend or a week on business in midtown, make sure you take a look at Ink48. The basic room on a weeknight in February started at $209.
Stay adventurous, Craig
this post is part of the Where to Stay Series. I reserved a room for six nights at a discounted press rate. Also, thanks to Kimpton for providing the first photo in the story.