Eating out in Merida is required tourist activity. These adventures in culture through cuisine will be another highlight on any trip to the state of Yucatan. Mexico offers some of the best food in the world and Merida offers one of its best regional cuisines to taste – Yucateca cuisine.
After my recent adventures in the Yucatan chasing cenotes, I returned each night to the city of Merida for some delicious dinners. From my travels, I highlighted a few great places to consider on your adventure including one taco spot of course.  When selecting these restaurant I chose the establishments based on location, the scene or vibes, word of mouth (reviews), quality of the dishes, and of course one must sample a famous chef's creations too. Price was never a concern, but none of these restaurants will break the bank as other comparable restaurants might in other global culinary cities.
Nectar
I can easily recommend the new location of Nectar, a restaurant by now famous celebrated Iron Chef Roberto Solis. He split with original partners in 2013, but continues to a fully elaborated menu he calls the New Yucatecan Cuisine at Nectar. As you walk in you can see the kitchen; the chef and staff cook right in front of you and being solo for this one dinner, I headed straight to the bar to watch and enjoy the plates being prepared for the patrons.
I ordered the waitress recommendations and started with tempura onions in a black recado, sampled the pork belly, and ordered fish this evening. All great choices, but so is the entire menu as I watched it be created in front of me.
Merida Dining Travel Tip: Start with a delightful craft cocktail, but also consider pairing wine with dinner. Nectar offers an extensive wine list with many options form Mexico. You need to try Mexican wine, you'll be pleasantly surprised.  I sampled a chardonnay from Baja California
Arcano
This was the first place we dined and it set the bar. And it set a high bar. The hip restaurant uses the tag line to "unlock your senses," so the experience is more than just the sense of taste. And it delivers. Crowded even on a Monday night as it showcased the restaurant scene in Merida and augmented my excitement for this "foodie" paradise destination.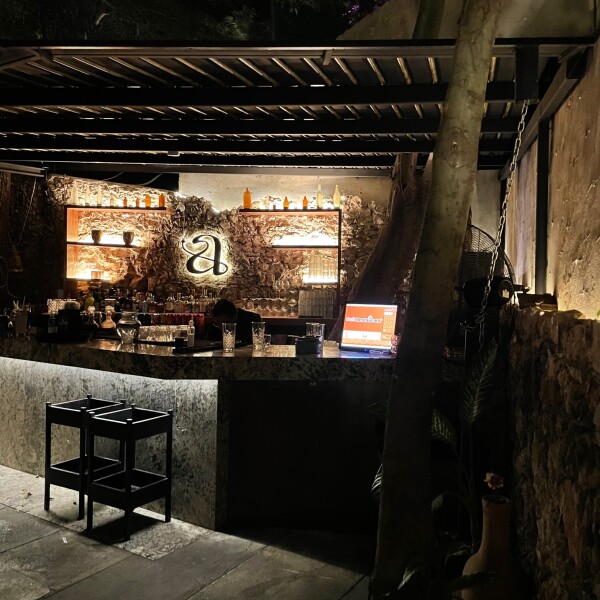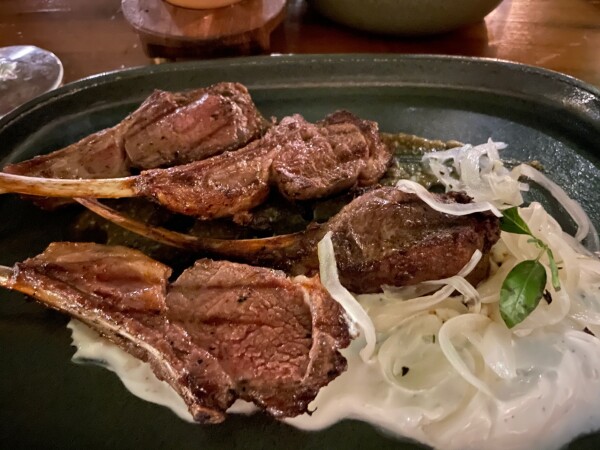 The lighting was perfect, just enough to appreciate the food and cocktails creations and also provided a sense of privacy for your party among the unique seating layout. I ordered the lamb chops and never looked back.
Merida Dining Travel Tip: With both indoor and outdoor seats at Arcano, we chose out door to appreciate the cool evening air. The vibe and lighting make for a delightful experience and provides the chance to unlock more of your senses.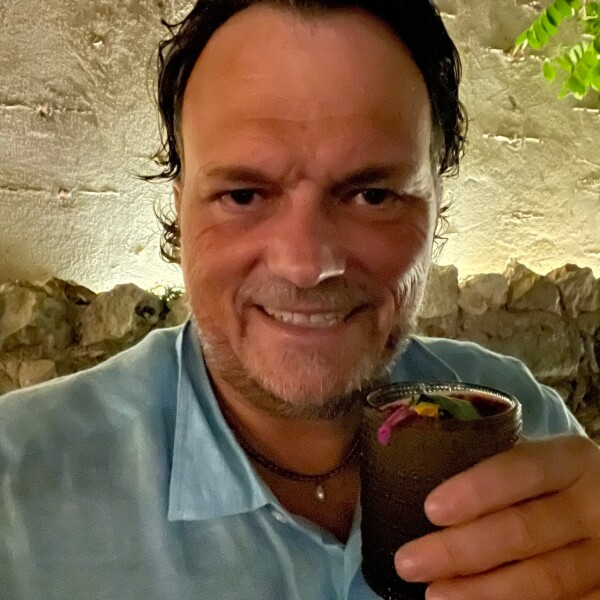 Holoch
No trip to Merida is complete without walking among its main square (zocolo) in the evening to appreciate the views of the local cathedral and also the historic government palace. Plenty restaurants are located there too. Walk a few blocks and you'll discover Holoch.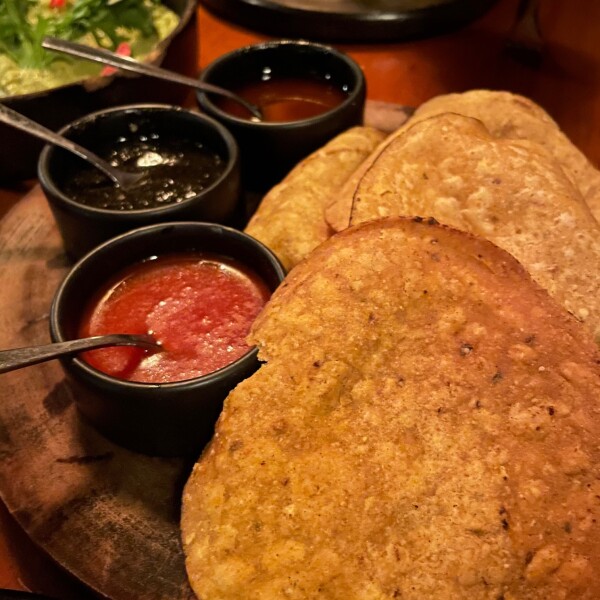 At first, even with the address, I walked right by this secretive and seductive place offering its exclusive vibe. Yet, once inside and greeted by the hostess. I headed straight to the bar for a mezcal craft cocktail. Multiple dining rooms exist through a long stretch of adjoining rooms including outside spaces where you can smell the smoke of the wood burning open fire oven. This night we sat inside to avoid the smoke.
Merida Dining Travel Tip: The bar maybe small, but definitely arrive early and wait for a table at the bar or the front room. The dinner was great, but the front room is where it's best "to see and be seen" inside Holoch.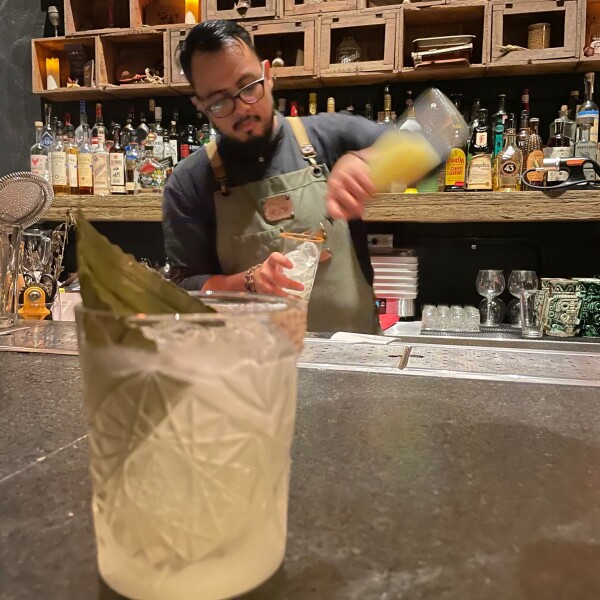 La Lupita Taqueira
You don't need to go fancy to eat fantastic food in Merida.  Nope, many of trips to Mexico, my best meal came from a taqueria (or even street tacos) and Merida is no different. Another must stop, La Lupita Taqueria is located right by a popular market.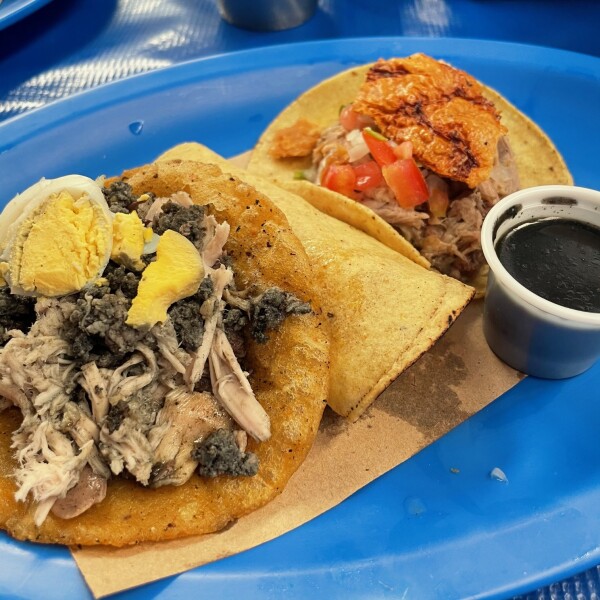 Tacos aren't only late night food either, we stopped here for breakfast.  Yes, breakfast tacos.  But regardless of the time of day, when coming to a recommended taqueria, I typically rely on my host or friends to point me in the right direction. We started with three different tacos and selected my favorite for another. Lechon. Order it. Also, close to the marketplace and quality shopping, definitely make it a stop one morning.
Merida Dining Travel Tip: Have a mid-day flight home? Well then this place is perfect for pre-flight meal en route to airport. It allows for last minute shopping close by and a delicious sendoff meal – breakfast tacos.
Four Places to Eat in Merida
After my time in Merida, I can easily recommend these four places to eat when visiting the Yucatan. Plus, these four restaurants are located all over town, so you are not limited to a singular neighborhood and they are all easily accessible through a taxi or (a very reasonably priced) Uber.  And as the city continues to grow in population with more Mexicans and ex-pats discovering the peace, harmony and delicious cuisine of Merida, one can expect new restaurants to arrive. Many will thrive too. But on your travels to Merida, you cannot go wrong selecting one of these four restaurants (or all of them) as an answer to the question – Where to eat in Merida.
Put Arcano, Nectar, Holoch, and La Lupita all on your Yucatan travel itinerary and enjoy the culture through the cuisine at some of the best places to eat in Merida.
Stay adventurous, Craig