Thirsty for more travel? Want to travel the world through wine? Me too. And now you can with the 2023 Stay Adventurous Travel Calendar – The Wonderful World of Wine.
For the 10th year of the travel calendar, allow the images to quench your thirst of wine.
Let's Travel Wine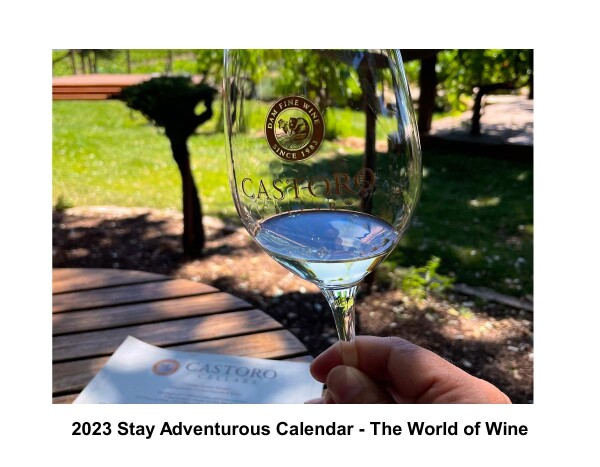 In the calendar, we shall visit California with many images from my recent wine trip to Paso Robles, and also visit Europe, Africa, and even Canada. We shall appreciate a combination of images that include views of tastings, vineyard views, and even images from my own personal Stay luxurious Wine Journey Tastings. In fact all the dates for my next three virtual Stay luxurious wine tastings are listed in the calendar on their slated Saturdays (February, June, & November), so you know to save date.  Plus, you'll also see mention of a week-long wine journeys to Spain to visit Rioja and Ribera del Duero in June and September. Stay tuned for more details on those adventures.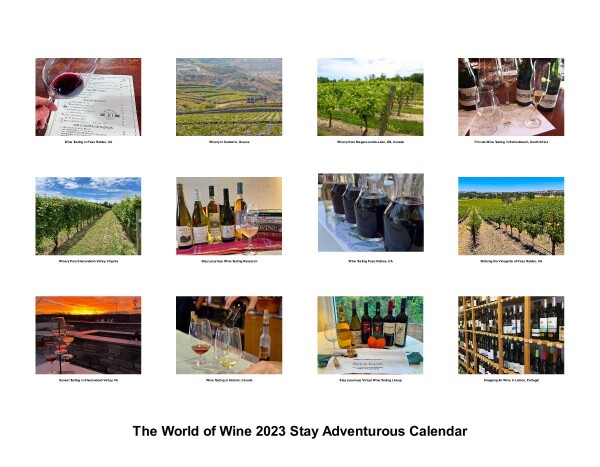 Make 2023 the year you, your clients, customers, co-workers, family and friends (re)discover the wonderful world of wine with this calendar. There is so much to learn and of course so much to enjoy in the world of wine.  Order your copy today.
Special Pricing – Cyber Monday (Week)
This year I used a new service for the calendar, since the other publishing service did not provide the chance to offer the same product as prior years. With the new service I can't officially discount the product through the software, but for Cyber Monday I'll relist the calendar for $18.97 (over 20% off the $23.97 retail) for 11/27-11/30 to celebrate the season of discounts.
Thanks again for everyone who continues to support the calendar for the last ten years.
Stay Thirsty for Adventure with a glass of wine in 2023,
Craig