This week in March marks two years since most of us Americans were told fifteen days to flatten the curve. And now Covid finally seems to be behind most of us now with many restrictions lifted both locally and globally. Fortunately, I call Florida home so it's been behind many of us Floridians for a long time already and honestly, I'm glad to see the world catch up.
It is great to see so many destinations open up this year too. Travel looks more accessible for everyone (yes everyone) again and I am very thankful for that. We all know things will be not be the same. The places we go have changed also all of us have changed too. We are all different.  We all learned much about our friends, family, neighbors, coworkers, and our government over the past two years.  We also learned much about ourselves as well.
Many of us incorporated positive changes too. We learned new skills, brought new ideas to life and changed who we are for the better in many ways. I decided to compile a list of nine things I learned or did in the pandemic that I plan to continue in the post pandemic world.
Bake Bread
I know a lot of people baked. Flour was often one of the most rationed or sold out products. Often not available on many supermarket shelves. But when a friend of mine shared a simple recipe with just six ingredients to bake bread I decided to try it. Success. I still bake my bread today.
The secret ingredient is perhaps love for fresh carbs or maybe it' using the Dutch oven. So no it's not a simply bread, but an artisanal loaf. Stay Artsy.
Conserve TP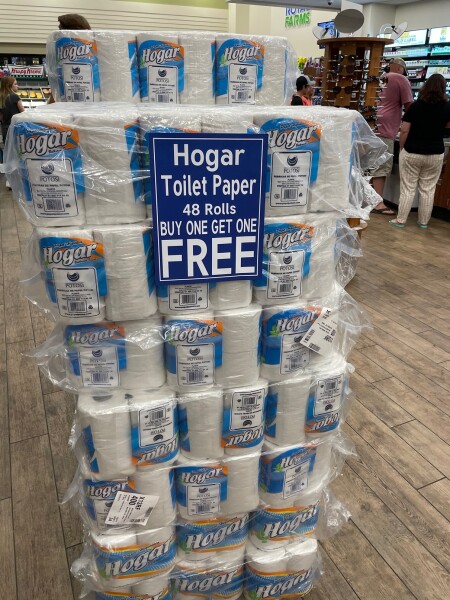 The toilet paper crisis was real. We all remember. I couldn't find rolls on supermarket shelves for weeks and I normally do (did) not keep a big surplus, so I needed to conserve. Simply put – less squares.
Although bounty has returned I simply continue to use less and it is not because of any concerns of a new supply chain crisis, but rather to help reduce any strain on the environment too.
Use Cloth Napkins
Another way to reduce paper products was implementing cloth napkins into the daily routine. Many more meals were curated and cooked at home for all of us, so switching to cloth napkins for all meals instead of just those "special meals" was a great way to make every day and every meal a little more special.
Write a Book
I always dreamed of writing and publishing a book. Well – mission accomplished.  I took the time during the lockdown to make that dream a reality. I worked on an earlier draft originally designed for audio content and wrote, edited, rewrote, formatted and then self-published a book.
It's a relatively small book, but the pages and images share stories and lessons learned from the road. The book, Gifts From the Road, can serve as the needed inspiration to take and make adventure again.
The book provides advice on planning, appreciating, and reflecting on the wonder of travel.  So, order a copy of Gifts From the Road today (ebook or hard copy) and stay tuned for another book in the future. Remember these all things I plan to continue.
5. Believe Everyone Can Change
For a while we've always heard "people never change," or "you can't teach an old dog new tricks." Well, let's shift that mindset to the world (and people) can change instantly. Don't believe me? Let's review exhibit 2020 and exhibit 2021. Yes, arguments can be made that many of the changes were done through necessity or fear (or perhaps bullying tactics) but that does take away from the fact change occurred.
So now that agree massive changes occurred, we know it is clearly possible. So, let's all believe massive changes can happen based on love and kindness too.  It is all possible and it starts with ourselves. I believe. All you need to do is believe too and keep this mindset.
6. Travel through Wine
During the pandemic, I often traveled through wine, when I couldn't travel completely. I attended local virtual wine tastings and also researched (and enjoyed) many wines to expand my pallet and knowledge. Today, I am clearly continuing this quest post pandemic through my Stay Luxurious Wine events.
Looking back, wine travels began last century with Sonoma and the Rioja region in Spain and it hasn't stopped with now over thirty vineyards on three continents and through ten countries. Visiting the vineyards in South Africa and Virginia winery sunsets to the splendor of Santorini are just a few places I've tasted the wines on site and now virtually traveling Spain and Portugal too. These are just the beginnings, plenty more to come so why not join me for my next event.
Unplug to Connect with Nature
There are times I know I need to go to bed, but stay up hitting the refresh on my Twitter to see more "news." Other times I pick up my phone for to check a work related item and get lost inside instagram. It's an addiction, I know it, and the way to break it is to unplug with a break in nature.
Nature is healing, it provides a needed connection to our planet. These moments enables us to come back to being part of earth and not separate from it.  For me this means watching my local Islamorada sunset (and not posting the image in my instagram @stayadventurous) or just sitting outside in my newly designed backyard space and getting out on the water.
Eat More Vegan
Yes, I am eating a more vegetarian focused diet. Some days I stay meatless and also void of any and all animal products altogether. I stay vegan.  I choose it for health and also choose it for taste too. It can be delicious. It can even be paired with wines as I did with my Stay Luxurious Vegan Wine Pairing.
But don't get me wrong, I am not a full vegan, I appreciate quality meat, fish, and cheese. Plus, I am a guide for the local Florida Keys food tour in Islamorada and enjoy every curated taste. But I realize the importance of diet from the microbiome to my health and make sure I eat real food and often mostly plants. Remember, nothing tastes as good as healthy feels.
Plant a Garden
As noted above, I am concerned about eating quality food, it is part of the reason I eat vegan some days, bake my own bread, and also why I currently support local food groups and get a weekly delivery of organic fruits and veggies from Moxoeberries.
But I also began planting too.  I have a key lime tree and planted pineapple, potatoes, celery and peppers. My success is limited so far, but wow were those pineapples delicious. Yum.  And I expect more great things to come as I plan to continue to grow my knowledge and planting the seeds for my future.
Well, those are the changes that happened in the last two years, and the nine changes I plan to continue through post pandemic life. We are all moving to a better place, a place where we determine our destiny collectively. So we can change and we can make a difference. We can inspire, we can learn, and we can create a better world.  With these nine changes, I shifted more than my mindset, I shifted my thinking and ways of life. And all of this just the beginning.
What changes have you implemented in your life since those two weeks that stretched to two year? And which ones are you keeping with you in the post-pandemic world?
Stay adventurous, Craig