Just forty-five minutes outside the city of Atlanta, Historic Banning Mills offers a natural escape and the chance to immerse oneself into a world of adventure.  Visitors can expect to experience adrenaline focused activities, relaxing in nature, and creative country cuisine all set in the pristine protected setting.  Yes, there is plenty to do, and here are 5 of the top activities to do when visiting Historic Banning Mills.
The New Eco-Spider ATV Adventure
New to the adventure list this year, visitors can take a guided off-road adventure in recently obtained electrically charged ATVs. These French made "Eco-Spiders"may look like a Model T ford, but they provide the power and ability to navigate the miles of trails inside Banning Mills at surprising speeds.
And as an added bonus, they are all handicap accessible with designed access to anyone without the use of their legs and with all the controls done by hand. Both single and doubles provide the ability for everyone to gain access to appreciate this unique adventure.
Take to the Sky on a Zipline Course
Of course the main reason to come to Historic Banning Mills remains the zipline course. With over 100 ziplines, it would take 2 days to ride every cable onsite (it is an available with a 2 day rush pass.), but most guests take on a level or two in attempt to pushing their comfort level a little and, well, stay adventurous. I took on the first two levels of the adventure and left craving more.
Adrenaline junkies will love the Screaming Eagle Ziplines since they can reach speeds of over 70 miles per hour, and some are also over  ½ mile in length. Guinness World Records labels Banning Mills the longest zipline course in the world.
Stay in Tree House
Actually more than the ziplines, it was the chance to stay inside a tree house is what made me research Historic Banning Mills as a stop on my recent USA road trip. The popularity of this type of accommodation continues to grow and Banning Mills is building a new tree house village to add more "rooms" to their resort. Also, some of the new tree houses include some which are handicap accessible too.
I spent my one night in a double that included a second bedroom complete with bunk beds atop in the "crow's nest" accessible via a spiral staircase. Considering it is a tree house, the accommodations at Banning Mills border on luxury and include an entire jet activated tub, forest views from a balcony, and a queen size bed with a fridge and entertainment system to watch a movie (DVD) available from the Lodge's collection.
Also, don't forget to bring a bottle of wine when you settle in. To see all the images of the tree house, check out my Instagram post here.
Take Dinner at the Lodge
If you are spending a night, or multiple nights at Banning Mills, make reservations (and your selections in advance) for dinner at the Lodge. The seasonal menu provides an elegant Georgia country style dinning complete with an appetizer, salad, entrée and dessert all at $85 for two ($42.50 pp). You can also visit the local shop to purchase wine or even bring your own (a travel tip recommended on the podcast about Banning Mills) for a minimal corkage fee or taste the local sweet tea.
The chef maintains a seasonal and local focus and I can recall watching the kitchen staff head out to the pot of mint to pluck some for my red beet dish (salad). It makes for a memorable evening and one you can walk off returning to the tree house and experiencing a Banning Mills Sunset on the bridge across the gorge.
Enjoy the Adventure, Appreciate the History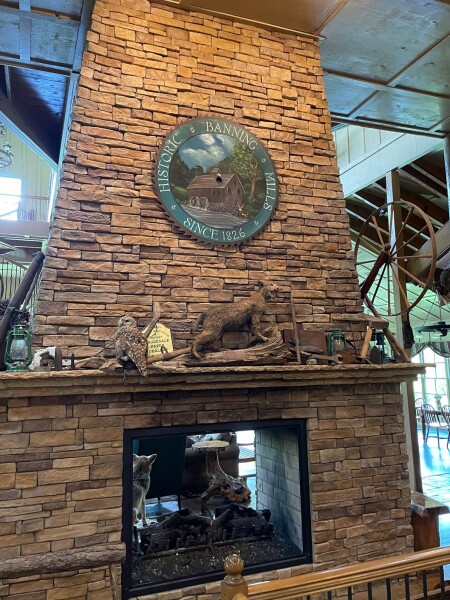 More adventures exist such as Kayak on the lake or river, rope climbing course, horseback riding, or even the opportunity to scale the gigantic rock wall, but the one other adventure is a chance to appreciate the charm and history.So whether it is on the eco-spider ATVs or even on a hike, make sure you visit the remains of the paper mills, and also take the time to appreciate the photographs and stories outlined in the main lodge, including about the local (bootleg) distillery.
Finally, don't miss the recently carved huge tree detailing the history of this part of Georgia. Recently, one of the oldest known tree on-site fell in a storm and the owners  moved it to the main entrance road and carved it to showcase the story of this region.
Well there you have 5 must do activities when traveling to Historic Banning Mills, I hope you will enjoy your trip there as much as I did.
Stay adventurous, Craig
I was a hosted guest of Banning Mills on my stay, but the words, opinions are as always uniquely my own.