San Francisco, a left coast California city known for being a progressive and artsy city offers much to see and do for travelers and remains a popular destination on travel wish lists.  So when the golden gates are once again open to the ideas of visitors coming to appreciate what is available, and to help one navigate the city in the form of travel tips for your next trip to San Fran. Although first tip – locals never call the city, "San Fran," ok here are the others.
Beware, San Francisco Can Be Cold!
Many visitors visit California during the summer for the best weather, but summer in San Francisco is actually notorious for being cool and windy. While the rest of the Bay Area tends to be sunny and beautiful, the city can be chilly. So, pack accordingly just in case regardless of when you decide to visit.
Getting Transportation
Getting around San Francisco can be incredibly challenging with a car since parking is difficult to find, but at least getting into the city and exploring the area is much easier since the new Bay Bridge was built. If you want to park valet or find a parking garage, you can have an easier time finding a parking spot. The best way to get around, however, is via public transportation or catching a ride-share depending on how far you want to go. Plus as a tourist, you'll definitely want to take a ride on the famous trolley
Wear Walking Shoes
You can get a lot of exploring in San Francisco done by foot, but you'll want comfortable walking shoes and prepare for hiking up hills. Many neighborhoods are best explored on foot, but you'll definitely feel the elevation.
Take a Harbor Tour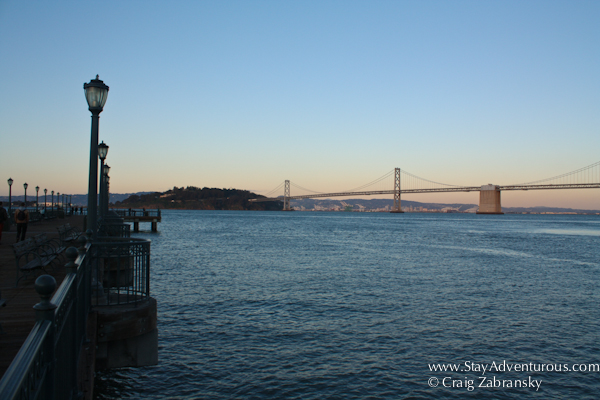 It is a must to see San Francisco from the water and to explore the bay. If you want a harbor tour, you can find plenty of tours down by the water or for an affordable (yet unguided) option you can opt for the public ferry.
Visit the Castro
Known as one the first gay neighborhoods in the country, it continues to be a beacon prominent symbols of the established LGBTQ community. Castro Camera still an attraction today was home to Harvey Milk, the popular activist from the 1970s.
Explore Chinatown
Chinatown is a must-visit while in San Francisco as the largest and most famous in all of the United States.
Tour Alcatraz
Take a ferry over to Alcatraz to take a tour and explore the notorious prison. It was where many of the America's most infamous inmates spent time including Al Capone. But it's most popular story may just be the escape from Alcatraz.
Ride the Cable Cars
The cable cars may not be the most efficient way to explore San Francisco, but it may be the most fun. Certain spots in the city attract a high number of tourists waiting for a cable car, but you can always continue on to jump on at a next pick-up spot to take your photo.
Visit Fisherman's Wharf
Fisherman's Wharf, down at Pier 39, is a classic tourist spot in San Francisco and rightfully so! There are a lot of activities to do and a lot of fun energy to be around, so walk around but eat out elsewhere in the city.
Ferry Building
Of course further down the Embarcadero from the Wharf and closer to downtown, visitors can visit the Ferry Building for more than taking a Ferry. The post work happy hour and evening dining scene here is a great place to spend an afternoon.
Sunset on Pier 7
Get to the water to take in a sunset in the city. Along the Embarcadero, stop in at Pier 7 Sunset, to spend a peaceful quiet sunset in San Francisco.
Wine and Dine in the Mission
Head to the Mission to wine and dine, and to hang out at Dolores Park! Here you'll find the famous TV Series "Full House" as well.
-M. Davis