New York City is one of the world's leading cities with significant influence on finance, commerce, art, fashion, and global entertainment. It is an amazing mix of many cultures from all over the world providing multi-ethnic culinary delights and extensive retail therapy too. The city that never slept until recently will once again come back to life once restrictions ease and it truly reopens.
To get you excited to travel to New York City, here are some of the places to visit on a first time visit so you too can start singing, "I Love New York."
Statue of Liberty
The Statue of Liberty is a must-see since it represents the liberty and freedom for all who come to New York and America.  Visitors can see it from lower Manhattan or the New Jersey waterfronts, but its best to take a boat to either visit the island or just get a closer look.
Visitors who also opt for a double decker bus tour such as Top View to NYC's many attractions, can also add the Liberty Cruise, This boat take them directly past the island and offers much history of its origin from a local  tour guide.
Brooklyn Bridge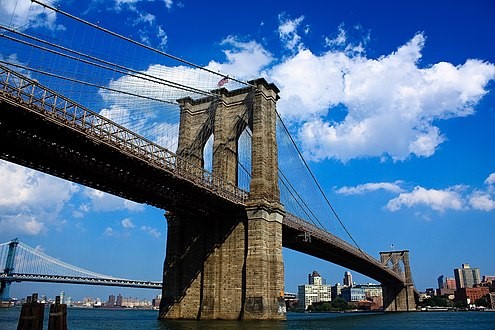 While you can drive across it, the best way for a visitor to experience it remains to cross it on foot. The pedestrian zone is on the top and gives you a wonderful view on both sides of the bridge and the skyline of New York City. It's definitely best to take the subway to Brooklyn (2, 3 to Clark St) and walk back across back to NYC. One of the best times is to also capture the views (and images) and cross the Brooklyn Bridge at sunset.
Madison Square Garden
Madison Square Garden is without a doubt the world's most famous arena. Almost all the famous stars performed in concert here. Also, it is home to the New York Knicks (NBA), the New York Rangers (NHL), and offers many other events through the year. Definitely check the calendar of events when you are planning your visit.
Empire State Building
This landmark iconic 102 story skyscraper remains one of the most famous buildings in the world. It may no longer the tallest building in the world or even in the city itself, but it still offers the most cache and represents New York, the Empire State.
You can always purchase tickets to enter the building and take an elevator to the top as the attraction remains one of those need to do once it a lifetime events. Of course, many other rooftops and buildings offer views of the building itself which often make for a better photograph.
Marquee Nightlife

There is plenty of nightlife in the city, but the Marquee is clearly a hot spot for New York. Parties go long into the night with no signs of slowing down at this popular 10th avenue club.  Known for its fantastic music, high ceilings, interesting red rooms, it also provides a great place to people watch.
Plenty of other late night places are available in New York too. Visitors have no problems spending nights out on the town.
Central Park
The days and nights in New York can be intense and tiring, but when you are in the city, where better to relax and escape then than the famous Central Park? This park covers an amazing 843 acres, so there is plenty of greenery to discover.
Many museums also line the park on both sides and inside visitors will find attractions and events too. The lake is one of the most beautiful sights in the park and is very popular with tourists while the great lawn remains popular with the local residents.
Times Square
Now more pedestrian friendly, Times Square is even more accessible for people. The heartbeat of the city remains a must walk through to see the billboards, and appreciate the energy New York offers. Here you will find Broadway theaters and retail stores plus close proximity to most attractions including just blocks from quality restaurants.
Regardless of when you walk through the thrill of sitting in the street watching the people pass reminds you that NYC is a city that never sleeps.
More NYC Attractions
In addition to the above-mentioned places, New York has many other tourist attractions with entertainment, sports, shows, restaurants, historic landmarks, museums, gardens, zoos, and more. You can do so much if you plan to fly into New York,
Yes, there is plenty to see and do on a trip to New York, and definitely more than four ways to enjoy New York City.  So whether you come for a conference, come to be a tourist or both, once the city opens up again, make your plans to love New York with a visit.
-James Smith