After my recent travels to the Magic Kingdom and a return to Disney World for a 3 night holiday in August, I decided to highlight a few of my observations to better serve you if you are deciding to visit Disney in the near future.
Here are 11 things to take note of when planning (or deciding to plan) your trip to Walt Disney World.
Disney is Following the Safety Protocols
Of course, some people see an image of "crowds" on Magic Kingdom's main street posing with Cinderella's Castle and they are instantly afraid. Understood.  But for those who put trust in the protocols of temperature checks, masks, sanitizer, and physical distance you will be more than pleased inside Disney World, so don't worry too much.
Disney is making great efforts to adhere to guidelines to make everyone feel safe inside the resort.
It's Always "Masks Up" in Disney
Masks are required everywhere and at every moment inside Disney World. This is for theme parks and resorts, literally everywhere. Exceptions only exist for eating in a stationary spot at specific tables, inside specific "relaxation areas" designed for mask breaks inside the theme parks, and when swimming in resort pools. Disney has yet to reopen its waterparks.
The masks also need to be a certain type; no buffs, no gaiters, no bandanas, no masks with exhale valves or filters.  All masks must be two layers, cover the nose, mouth, and chin, and strap around the ears. If you need a spare, and you might since you are wearing it ALL day, Disney inspired masks are on sale for $6.
Book a Resort with a Pool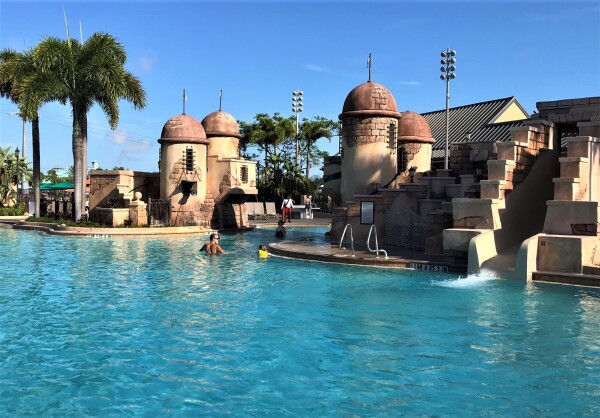 If you plan to have an evening designed to relax and still want to socialize (outside the theme parks), then choose a resort with a pool.  A complete sense of normalcy returns when splashing around the pool, watching kids slide down the waterslides, or when taking some adult time in the hot tub. I was very pleased with my selection of the lower moderate price Disney property of the  Caribbean Beach Resort.
Whether you plan to use your bathing suit or not, remember inside the pool area you can go mask-less.
The Epcot Food and Wine Festival is On
I'd personally call it the food and beer festival as I never noticed much wine, but that's fine by me on hot summer days even though I do love to travel through wine. Regardless, this avid traveler was happy to travel the world showcase, experience aspects of the countries and its culture through cuisine.
The Hawaiian pork slider came highly recommended as did the lobster roll. Persoanlly, I'd like to recommend spicy Kenyan vegan corn and white beans with more yumminess (all plant based) along with a local (Kenyan) Tusker Larger too. It was great to eat some relatively "exotic" food again. Delish.
Another must try in the beer category is the Aass Pilsner from Norway (relax, it's pronounced Ouse 😉
The My Disney Experience App and the Smart Phone
Visitors need to create their Disney Vacation through the my Disney experience website, but once in the park, everything is on the App. Hungry? Visitors order food, schedule pickup times and pay for it all through this app.  Curious, how long is the line for an attraction? Everyone checks wait times on the app. Want to experience Star Wars Galaxy's Edge? All Rebels or First Order sympathizers need to be inside Hollywood Studios (new policy is one park per day and that needs to be reserved through the website) and then also enter its daily lottery via the App.
Couple that with taking photos, social media posting, and the long hours of activities you are best served bringing a smart phone portable charger too.
Cash is no longer King
Welcome to a cashless world. Everything done through the app such as ordering food, works through the charge card on the account. When inside a theme park, most people either use a card or the magic band.  The magic bands are for sale, for those who want them, but they also come with a stay at a Disney Resort and serve as your entrance access too.  You can either pick them up on arrival, or they can even be mailed to your home before you come to keep everything contactless on your arrival.
And yes, they know where you are when wearing a magic band.  I noticed at the end of the ride "It's a small world," signs said "adios Craig." Makes you both smile and also wonder.
Prepare for a 10,000 Steps in Heat and Humidity
For those of us who may not have been so active recently under recent restrictions, you may want to prepare for the "hike" with heat and humidity. And with the combination of shorter wait lines, meaning more times moving. plus all day with a mask on, you will be getting more than 10,000 steps done in a unique way.
I'd plan on taking comfortable walking shoes too.
The Theaters are Open
Yes, many of the experiences in Disney involve theater settings, from Canada's  Far and Wide 360 degree movie in the Epcot World Showcase  to the Bear Jamboree in Frontier Land of the Magic Kingdom, the theaters are open. Each theater follows strict adherence to guidelines for limited seating with specific seats blocked off, alternating rows closed, and no more than 4 people parties sitting next to one another.
Also to note, the movie theater inside Disney Springs was slated to open a week after my visit.
No Line, No Wait, No Problem
Many of the top attractions have incredibly low wait times. Five or ten minutes are common on major attractions and when you start to debate returning later when the line waits are twenty minutes please pause to realize how spoiled you've become.  Plus, with all the six feet spacing between parties on line (all marked on the floor), you are moving twelve feet for just for two groups ahead of you. It always seems as if one is always making great strides to get into or on an attraction.
So yes, now is especially the time to go if you are the type of person who must get on every ride.
Use the New Skyliner
The relatively new Skyliner is the best (or at least my favorite) Disney transportation to and from the theme parks. The trams are continuous and unlike buses, monorails, or boats there is no wondering when the next one will arrive and more importantly, if you will be able to get on?  And in these times, there are no sections or assigned seats by Disney cast members ensuring spacing. Every party gets an entire aerial gondola. Shhh….the trip can also serve as a mask break.
From the Caribbean Beach Resort, you can travel directly to Epcot and Hollywood Studios. It was great to start the day with a ride in itself.  Here is the map of the skyliner.
It is Not the Same, but the Magic is Back
Of course it is not the same, but the magic is there, the magic is back. Maybe the family can't meet Mickey personally, but everyone's favorite mouse was constantly parading through the theme parks waving to everyone. He was there with a cast of characters and princesses letting us all know it is going to be alrigh and it is ok to have fun again.
And fun is what he had. Thank you Mickey.
Well there you have it, eleven quick observations about Disney now. For more details, definitely settle in for a podcast episode about my time returning to Disney. And as always, feel free to ask any questions below.
Stay Magical, Craig