The sun was already low on the horizon when I got into my kayak and started paddling out on the placid waters of Florida's Lake Minnehaha. I knew it would set before I got back to shore, but that's exactly what I wanted for this paddle.
Nowhere am I more alone with my thoughts than when I'm on my kayak. The focus I put into my paddling becomes meditation in motion, and when it feels right, I simply stop and drift. That's when I spend a few moments soaking up the sheer beauty of my surroundings. With my head cleared of the day's stresses and frustrations, I continue on my way.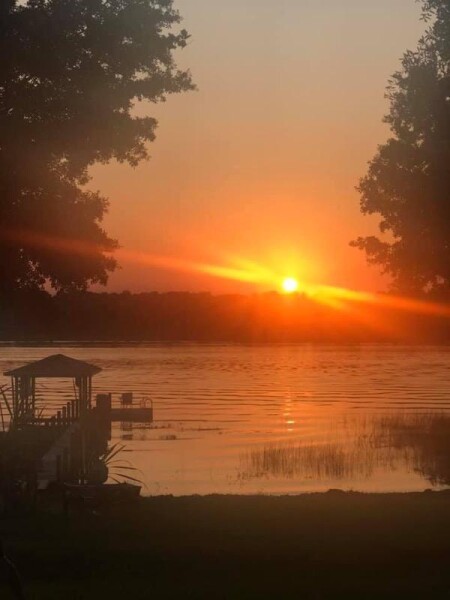 But this time, being out on Lake Minnehaha wasn't about de-stressing or physical fitness. I'd planned it so that I'd be on one of the most beautiful lakes in the Clermont chain when the sunset. The day marked one year since my best friend told me she was moving halfway around the world. Two months later, she'd texted me photos of her new home and told me how happy she was to be at the beginning of a brand-new adventure. I never expected that her leaving would affect me so profoundly, and I needed time to reflect.
As the sun sank closer to the horizon the sky bloomed in orange, pink and purple and the water of Lake Minnehaha shone like molten gold. The few clouds in the sky became a blaze of glory. For a moment, I could have been in one of the Impressionist paintings my friend loves so much. I don't think I ever understood what those painters were trying to achieve until that moment.
There was no sadness in my heart. Instead, I was filled with a profound sense of gratitude for all the adventures we'd shared. What's more, I'm glad that she's only a phone call away. Maybe one day she'll be back to take in another Lake Minnehaha sunset with me.
The sun began to dip below the horizon and lights began to twinkle on the shore. The lake became a mirror that reflected it perfectly. I knew that it was time to start paddling and head back to the shore.
That was not the first sunset I had seen and it certainly wasn't the last, but it was one of the most magical and memorable.
Author Bio: Mark Armstrong is a full-time globe-trotting kayaking junkie. Making his way across the world, one rapid at a time. When he's not out paddling on the water he's the chief editor for Kayak Guru, where he writes about anything and everything kayak, fishing, and SUP related.