There's a lot more to Tunisia than dunes and deserts. It is home to fascinating Carthaginian and Roman ruins, beautiful beaches and unforgettable North African architecture.
Quite simply it's a great place to visit and it's much easier and safer to travel there than you may realize. The country hasn't had the best press over the last 5 years,  but despite that recently tourists are rightfully starting to take notice of its prowess as a vacation destination.
Get Your Tunisia Visa Prepared
One of the first things to work out before visiting Tunisia is whether you need a visa or not to enter. Without one, you might end up stuck at the border. Citizens from 97 countries can travel to Tunisia for 90 days without a visa. However, the country is also soon to launch a brand new Tunisia eVisa which will simplify the process of applying for permission to enter the country and pass through national immigration.
Book Your Flights and Pack Your Bags
Once your all set to enter Tunisia, it's time to start planning the fun stuff, what to pack and how to get there.
Getting to the country itself is quite easy. International flights operate in three cities across the country, Tunis, Hammamet, and Monastir. From there are regular direct connections to Europe and the Middle East.
When is the Best Time to Visit Tunisia?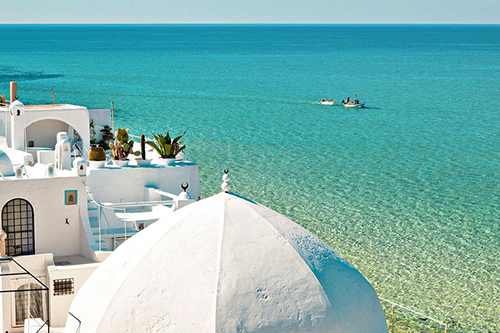 Overall Tunisia enjoys a typically Mediterranean climate in its northern regions, whereas the southern deserts fluctuate between very high daytime temperatures and very cold nights. The heat reaches highs of 33ºC (91ºF) along the coast, whereas winters can see temperatures fall as low as 7ºC  (45ºF).
The best time of year to visit the country is in the spring, which occurs between March and June and fall in September and October. These months are normally temperate and warm, offering the perfect conditions to enjoy Tunisia.
What Should You Pack For Tunisia?
With the hot weather and sunny skies, it's best to bring loose summer clothes and plenty of sun protection. However, keep in mind that Tunisia is a Muslim country and its best to dress as the locals do: modestly.
Men and women are recommended to bring longer clothing that covers most of their arms and legs for cities but if you're planning a trip to the beach, normal beachwear is fine. If you're thinking of journeying out to the desert dunes, it's also suggested to wear a scarf to protect your face and neck from the sun and sand.
The essentials you should bring include:
Sunglasses
Swimsuit
Scarf
Sunscreen
Long pants or skirts
Open shoes or sandals
Loose light cotton or linen shirts and t-shirts
Do I Need any Vaccinations For Tunisia?
There are no mandatory shots you need to get before visiting Tunisia. However, there are few recommended and advised by the CDC before setting off on your trip  Those include the following inoculations: Hepatitis A, Hepatitis B, Rabies, and Typhoid
Is Tunisia Safe to Travel In?
Tunisia has suffered from a bad reputation following a violent attack on tourists in 2015. However, since then the situation has improved dramatically and all government warnings advising against travel have been removed. The country is now much safer to visit and is gradually encouraging tourists back. With some of the sights it offers to travelers it's easy to see why.
-Dorothy
Dorothy Jones is an experienced content writer and passionate traveler. She is associated with many renowned travel blogs as a guest author where she shares her valuable travel tips and experience with the audience.