Photographs can tell a story. I pieced together these five photographs to highlight a recent trip south of the border to Mazatlan, Mexico.
Golden Zone – Playa Camarones
Known as a beach destination, Mazatlan also has surf. One morning I woke up early to head down to Playa Camarones to catch a few waves. Located in the Golden Zone, the waves were small, but it is always fun to surf in Mazatlan.
"Camarones" translates to "shrimp" and Mazatlan is the commercial ship capital of the world. I recommend you try some when you visit. Delicious.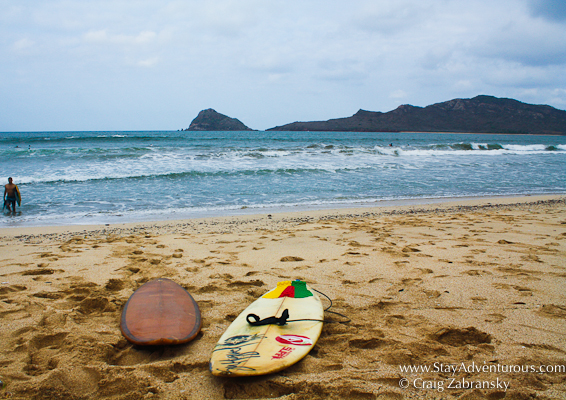 The Pulmonia Taxi
Mazatlan definitely offers a distinct Mexican vacation experience and one unique aspect is the open-air taxi called a pulmonia (pneumonia). Nicknamed such because it was once believed (or argued) these taxis might give passengers a cold. But I wouldn't worry that in the Tropic of Cancer destination. In fact, these supped-up golf carts are a must.
Take one along the malecon with a cerveza. It is as much a means of transportation as a souvenir.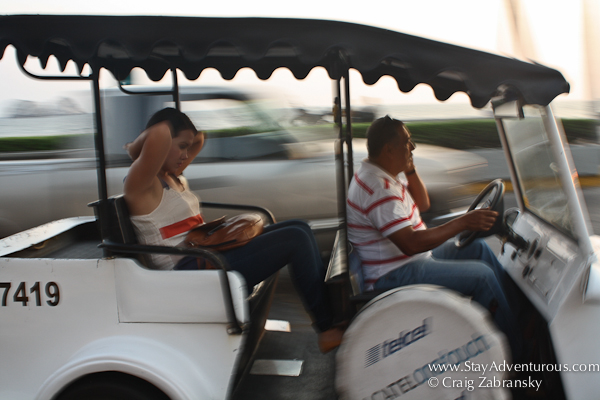 The Dance Performance in El Quelite
Although you can't take a pulmonia here, El Quelite is a short day trip from the city and perfect place for lunch. And the spot to eat lunch is at el Meson de los Laureanos restaurant. It's more than good food, but also an experience, especially if you talk with Dr Osunas.
On my visit there was a show over lunch, I captured the colorful dance in motion.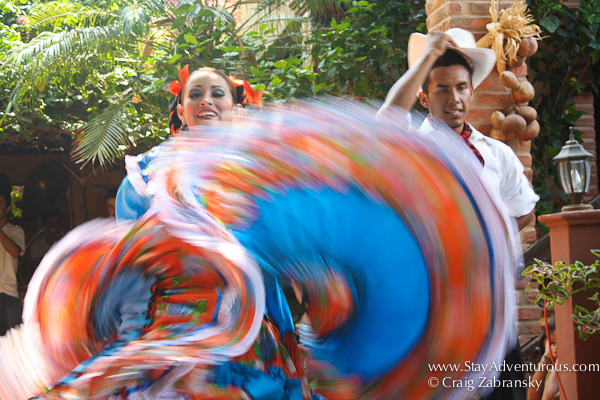 Malecon Art Sculptures
Mazatelan boasts one of the largest malecons in Latin America. And although most people drive along the malecon (preferably in a pulmonia taxi) many art sculptures exist for that represent the city and its people. La Continuidad de la Vida – the continuation of life is one of the most iconic of these monuments.
Located just passed the famous cliff diver's rock, this beautiful sculpture of leaping dolphins overlooked by a nude couple standing on a snail.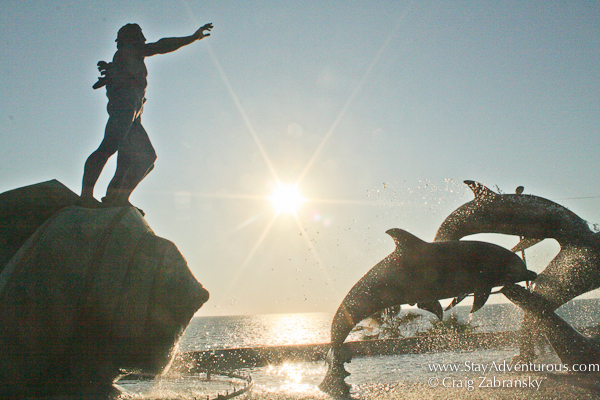 Old Town – Plaza Machado
The recently revitalized square in old town, the Plaza Machado, is the heart of the city. Surrounded by cafes and restaurants, the square  attracts both tourists and locals alike. It is a perfect place to take a dinner.
One of my favorite places to dine in the square is Pedro & Lola's.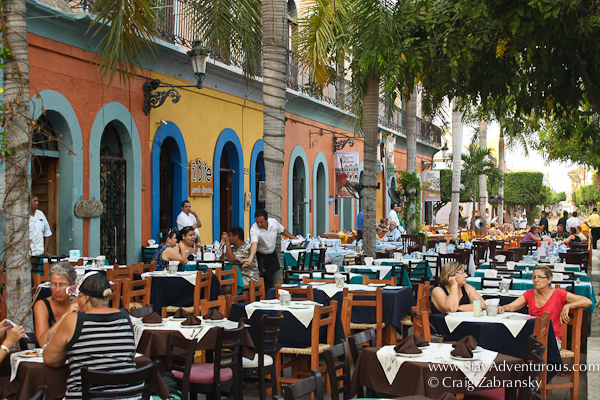 If these photos entice you can always find  cheap flights to Mazatlan and explore the Mexican seaside destination for yourself. I know I'll be back.
stay adventurous, Craig
A special thanks to the Mazatlan Hotel Association and Ogilvy PR for inviting me to visit Mazatlan. I look forward to returning again. And make no mistake, all opinions and words on my blog are my own.  Also, this post is currently sponsored by FlightHub