If you're headed to Vegas for your next vacation, or just for a weekend getaway, there are more than a few places you must visit. Vegas is infamous for world-class bars, nightclubs, and more, So we've compiled a list of five luxury spots you need to see next time you're Sin City-bound.

1. The Skylofts At MGM Grand
Did someone say "luxury hotel"? What vacation could possibly be complete without staying in the most luxurious and highly rated hotel in all of Las Vegas? This luxurious complex is situated atop the MGM Grand and offers a regal view of the city below.
The Skylofts are famous for their luxurious (and expensive) rooms. With a private entrance, private elevator, and personal chauffeur from the airport, you'll be treated to the most luxurious experience you could want.  The rooms themselves offer an even deeper dive into the world of luxury and high-class living. With heated towel racks, an espresso machine, and even a personal butler, there's no more to say, except that you absolutely must visit this stunning hotel at some point in your life.
2. Clique Bar and Lounge
While you're in Vegas, you'll no doubt want to hit the town and see why it's so famous for its clubs and bars. If you're looking for luxury, look no further than Clique. Clique combines luxury with a casual atmosphere, giving you an experience unto itself.
The lounge itself is located in The Cosmopolitan, a luxurious spot in and of itself. With its signature tableside mixology, the lounge is a great place to relax and unwind and enjoy some great music and perfectly mixed drinks. If you find yourself craving a snack during the night, perhaps the lounge's infamous deep-fried Oreos or signature wings will satisfy your pallet. Whatever your taste in drink or food, Clique is sure to have something for you.
Probably the best Las Vegas Lounge, Clique is soon to celebrate its third anniversary with a party of special magnificence.
3. The Forum at Caesar's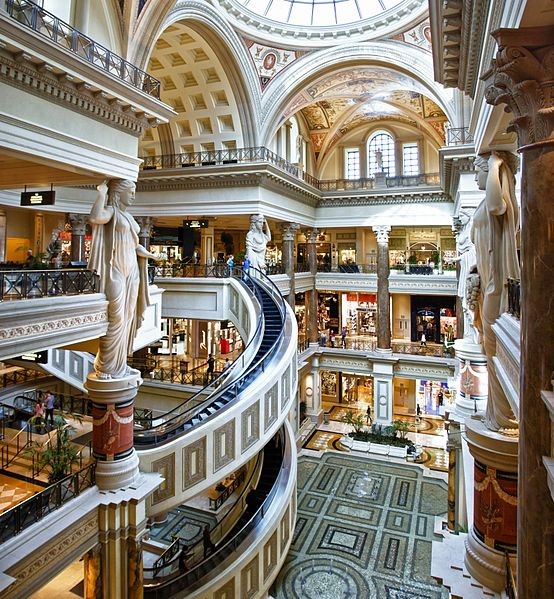 What would a Vegas trip be without some luxurious shopping? Caesar's Palace offers the chance of a lifetime with its Forum shopping center. With over 160 specialty shops and restaurants, there's something for everyone in this massive and luxurious shopping extravaganza. From Apple to Tiffany's, the shops include many of your favorite brands and even some you may not have heard of yet. The location has won several awards, including the "Best Shopping Destination" in Vegas Magazine for 2015.
Your local mall will seem lackluster after a tour of this massive forum. It even has a gigantic, 50,000-gallon aquarium. That's right! One of the biggest aquariums this side of the Mississippi. Talking statues, world-class restaurants and shopping, and exotic fish…what's not to love?
4. Red Rock Casino & Spa
Gambling is fun, right? How about gambling plus a world-renowned spa experience? That sounds like a win to us. That's what you'll find at the famous Red Rock Casino & Spa. The casino itself boasts around 2,700 slot machines, blackjack, roulette, and countless other table games. If you're looking to hit the jackpot, try your luck at a luxury blackjack table or even watch the races. That's right, the Red Rock even offers a front row seat to major racing events in their racing room, but if that doesn't suit you, you can always try your hand at some bingo.
The spa is a world in and of itself. Massages, facials, nutrition services, and even a salon that offers nails, hair, and waxing, this truly is the all-in-one experience you must indulge in. Next time you're headed to Vegas, check out the Red Rock for all of your gaming and spa needs rolled into one, luxurious package.
5. Palms Casino Resort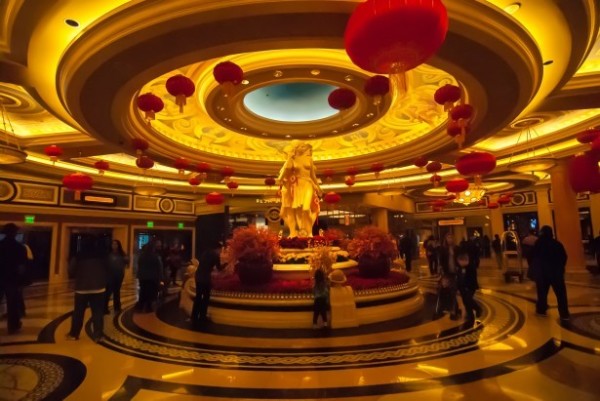 Home to the Pearl Theatre, boasting 2,500 seats and over 18 private boxes, the Palms Casino and Resort is an excellent stop for a luxurious theatre and casino experience. Big names like Lady Antebellum and Il Divo have been featured, and the stunning theatre has excellent acoustics for a unique sound experience.
If you're looking to try your hand at some gambling, the Palms Casino has plenty of table games and slots for gamers of all levels and interests. The casino is 95,000 square feet of pure gaming excellence, complete with bars and lounges throughout should you need to take a break.
Wait, there's more! Featuring a spa and salon and fine dining, this resort has everything you need all in one place. Three luxurious restaurants tenanted by award-winning chefs are sure to provide any comfort for even the pickiest of palettes. Maybe you're feeling the need for a swim? The Palms has you covered. Located on the 6th floor, the massive 50,000 square foot area features waterfalls, stone gardens, a Jacuzzi, and more for a relaxing oasis to lose yourself in. The kind of resort you'll want to return to again and again.
Conclusion
Vegas arguably hosts the most luxurious vacation properties in the nation. Everything from luxury casinos to world-class hotels and restaurants, to some of the finest lounges. Each of these luxury spots offers something different for everyone, making your Las Vegas experience one to remember.