Could I see Mexico? Well I wasn't sure, but just miles from the border I can attest to seeing the deep blues of the Gulf of Mexico in the distance parasailing in South Padre Island, Texas.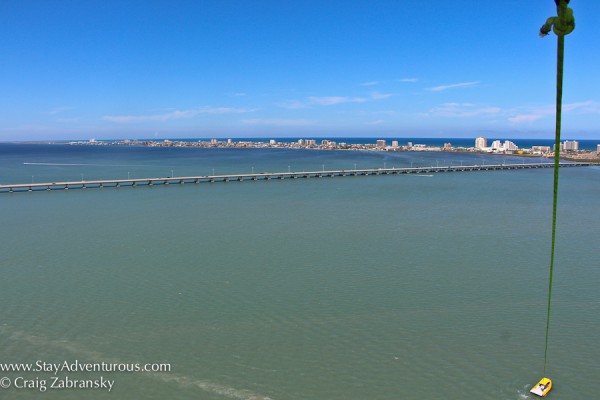 Incredible views are a top reason to take to the sky with views of the causeway bridge and the colors from both waters, the greens of the Laguna Madre and also the blues of the Gulf of Mexico. What else, what other reason? For me the opportunity to parasail is also the chance to float among the clouds in silence. Parasailing is more than an adventure. No doubt it can take courage to strap and "fly" off the back of a moving boat, but it can also be a "disconnecting" experience, a chance to remove oneself from touching the earth and float in the sky.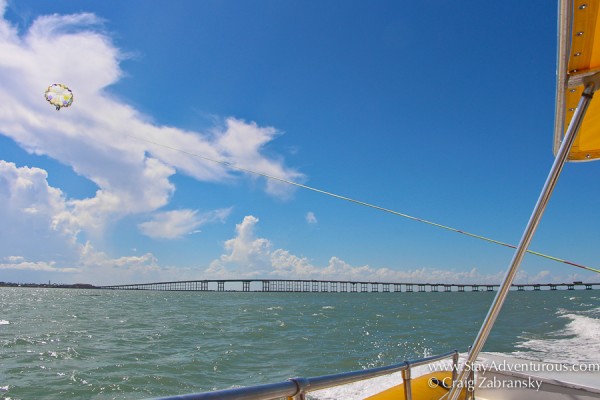 Parasail in South Padre
After a recent parasail in the upper Florida Keys, I was excited to take back to the sky and get above it all. And I am so happy I had the opportunity to make that happen in South Padre Island.
Multiple companies offer parasailing in South Padre Island and the tandem team of captain and first mate from Breakaway Cruises were first rate. They amused us with jokes, kept us safe and dry (or got us wet if we wanted). The captain, so in tune with the wind, allowed riders to just have their feet touch, or up to ankles, or knee, it was the choice of the people attached to the parasail. Impressive.
Personally, I elected to stay dry since I took my dSLR with me. Yet, once up in the sky among the clouds I found myself taking less photos and enjoying more of the time being present floating among the clouds. It's a place we don't often get a chance to be with such ease.  Yes, that was the real gift from parasailing South Padre Island. Thank you. Oh and you looked gorgeous from up there too.
My trip to visit South Padre Island including my parasail adventure was hosted by Texas Tourism. But all words and opinions here are my own.