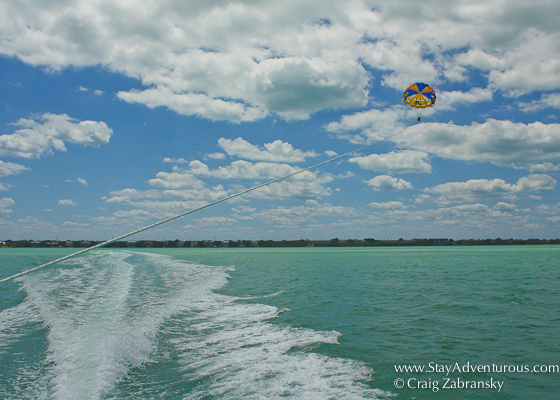 I consider the Florida Keys an American paradise. Yes, I do. And there are multiple ways to appreciate its beauty.  One of my favorite ways is from the sky.  Yes, take to the sky in a parasail and view majesty of the water and the islands (or keys) from above.
Key Largo Hilton and Caribbean Water Sports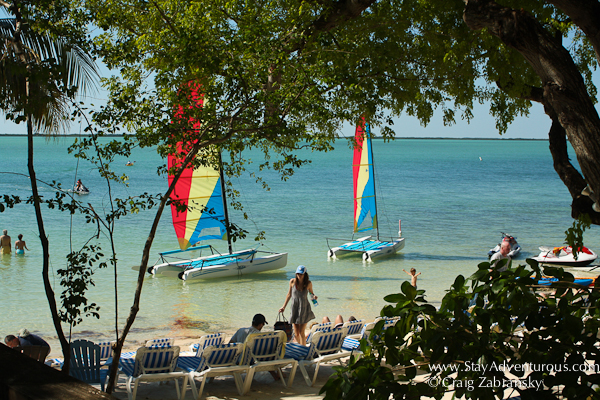 In the upper Florida Keys, on the beach at the Key Largo Hilton visitors can find Caribbean Water Sports. Here, patrons can rent kayaks, hobie craft and partake in many other activities designed for enjoyment on the water. I certainly recommend them, but after a few minutes in the air, I recommend the parasailing too.
Staying Adventurous-Parasailing
When parasailing you can't take photos of yourself, well it's not easy. Thankfully, I had help. I went out with Florida Keys writer and blogger Claudia Miller.  She deserves all the credit for any photo you see me in below including the one that made its way into Florida Travel and Life Magazine.
Photos of the Florida Keys from the Parasail
And once I was up in the sky, I also took a few photos. Here is a look at the keys from above.
 Photos of Parasailing from the Boat
I also took a few photo and images of Claudia when she was out on the line. Here a few different views to complete the picture of the experience.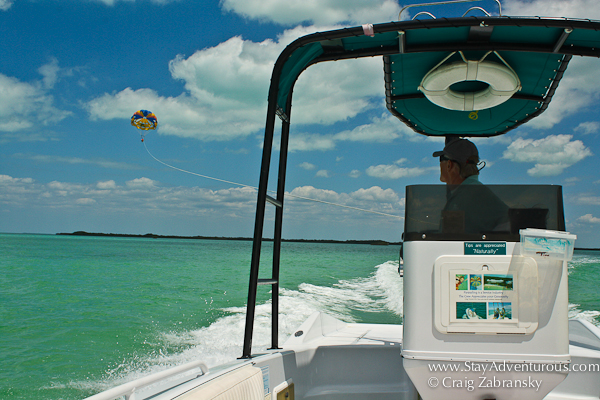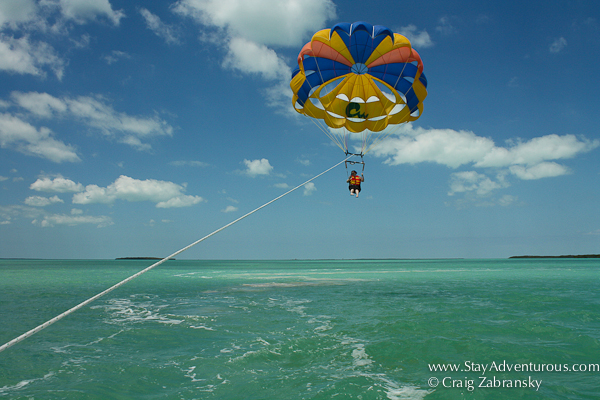 Most folks appreciate the beauty of the Florida Keys from its sunsets, the drive through all the keys en route to Key West from the mainland or from the water on a sailboat, kayak, jet ski or fishing boat. All good choices, but hopefully you now agree, so is parasailing. Take to the sky and  stay adventurous, Craig
A special thanks to the Key Largo Hilton and Caribbean Water Sports for hosting the event. Also, thanks to Claudia for the photos. For more information on the Florida Keys, definitely follow @KeysClaudia on twitter and her Florida Keys blog on Florida Travel and Life. Also, tune into the #Flkeys chat on twitter the last Wednesday of every month at 2pm ET. (On Feb 27th, I am guest co-hosting and we are talking Luxury in the Keys – Join us)