This week, I am excited fellow #Africhat Organizer, Ethan Gelber, will share his magical Maasai memory and his Simba Camp sunset in Southern Kenya. In Ethan's words: 
Impossible to make out in the penumbral shadows are animals, the kind of wildlife one expects to see on a sunset savanna in southern Kenya, especially Maasai giraffe and zebras.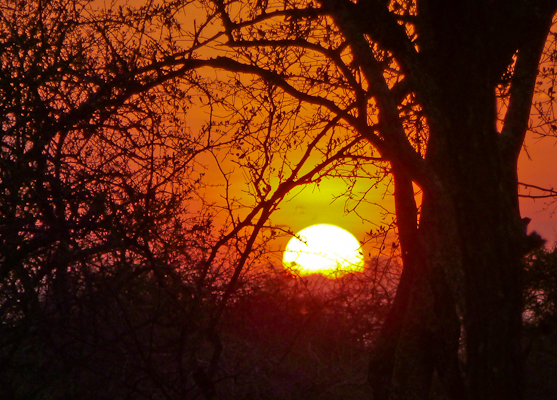 Earlier in the day, I had traveled several hours from Nairobi to the village of Merrueshi, a community that is the site of the fantastic Maasai Simba Camp and at the heart of work being done by the Maasai Association, a community-based non-profit organization aimed at supporting sustainable economic development projects in the Maasai region.
After stretching our legs and meeting some Maasai warriors from the community, we were invited by them for an afternoon stroll into the surrounding countryside. None of the ground we covered was protected land, but set in the busy corridor between Amboseli National Park to the west and both Chyulu Hills National Park and Tsavo West National Park to the east, it might as well have been. But we were on foot and out in the open, not sheltered behind a windshield. The profusion of animals and plants – the latter at easy thorn's reach – gave us a much more grounded and thrilling sense of place. Sitting by and watching more than a dozen giraffes amble to within 20 or so paces of us made it all the more special.
Having taken time to visit one of our Maasai warrior guides' homesteads, including his mother's mud-walled boma, we headed back through failing light toward our own Simba Camp, both charmed and a bit intimidated by the prospect of a walk through very dark night.
But first, there was sunset – a brilliant fast-sinking orange orb tucking itself behind the acacia trees. Though the glow gave way to dusky shadow, gloaming and then blackness, the warmth followed us all the way back. Unforgettable.
-Ethan Gelber
Ethan Gelber is a freelance writer and editor specializing in responsible and sustainable travel. His most recent endeavors include co-founding Outbounding.org, a community-powered platform distributing excellent travel content; editing The Travel Word, a website he founded that showcases responsible travel; being a contributor in Adventures Less Ordinary, a book designed to demonstrate the possibilities of travel with purpose. 
Also, for more information about #Africhat, please check out the details on the Been To Africa page – Africhat. And for details on the place mentioned in this post, check on the Maasai Simba Camp