Flashing back to a Utah sunset memory that is forever etched in my memory.On July 11, 2011 at the Utah-Arizona border on Lake Powell, where I was starting Sol's stand up paddle fitness retreats my brother Tyler, his wife Marci, and their 2 year old son Beckham came to visit from California. Tired from their long drive, we still grabbed the SUP's and went straight to the water, just as Mother Nature rolled out her red carpet with a most spectacular and unforgettable Utah sunset.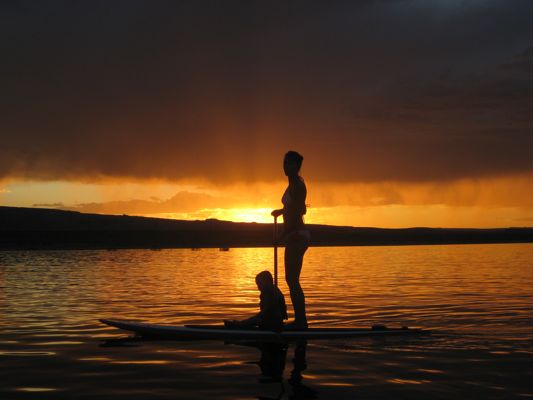 Tyler and I spent our childhood summers camping and boating here with our sisters, cousins, aunts, uncles and grandparents. To welcome the next generation to our special place was a ritual and a privilege we will always treasure.
-Melanie Webb
Melanie Webb is a personal trainer and former wildlife biologist who shares her passion for the outdoors leading multisport trips through her company, Sol Fitness Adventures, and by working to bridge the gaps between human beings, nature, and health.
Personally, I met Melanie on an adventure in Veracruz Mexico when we both attended ATMEX. When I noticed this image, I thought it was perfect … Sol (Sunset) – Fit (SUP) – Adventures (Staying Adventurous with her company). I look forward to attending on of her multisport adventures one day.