I boarded the ms Westerdam in Seattle's harbor on a most beautiful afternoon. The crystal clear blue sky along with the glistening water of the Puget Sound made for a perfect setting to set sail. It was the perfect time to celebrate too.  I was heading north to visit America's final frontier – Alaska.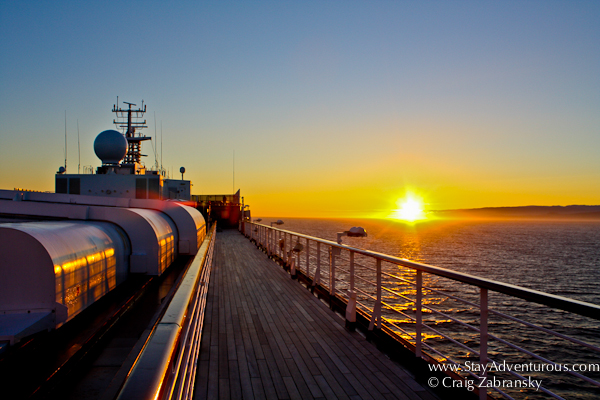 After a delicious dinner, seared scallops with bacon, the prime rib (end cut) and some award winning wine I headed up to the observation deck to observe one of my favorite moments of the day – the sunset.
Around 9pm, standing in the cool breeze, I was rewarded with another splendid sunset at sea. It was the perfect beginning to the week at sea. Happy Sunset Sunday
Stay adventurous, Craig
This week (July 26-Aug 2) I'll be sailing Holland America's ms Westedam to Alaska. The seven day cruise will stops in in Juneau, Stika, Ketchikan, and Victoria (British Columbia, Canada). You can follow along twitter, instagram and facebook on #Westerdam or about Alaska on #StayAK
Cruise Radio Episode 174
For a full recap, and the radio show broadcasted across Cruise Radio, listen in to the episode 174 about Alaska here >  Dancing with the Stars in Alaska.