Carnaval. It's probably on your bucket list, right?
Let's face it, Carnaval is a must attend party. When we hear the word "Carnaval," most of us fantasize about samba dancing in Rio de Janeiro, Mardi Gras and Fat Tuesday bead exchanges in New Orleans or masquerade parties in Venice, right? What about Mazatlan, Mexico?
It is the world's third largest Carnaval celebration.
Wait. What? Where?
Yes, Mazatlan. Yes Mexico. And it's safe too. I know, crazy right? Well it is carnaval after all. Let's take a look.
Mazatlan Carnaval More Than a Parade
The celebration is hardly just a parade, but a long weekend from Thursday to Tuesday of events. One of the many highlights is the fireworks symbolizing the Mexico's sole naval victory. They defeated the French on the Bay of Mazatlan; actually it was during the same conflict as the much "Americanized" Cinco de Mayo military victory.
Mazatlan Carnaval Parade
The parade occurs along the famous and long 11-kilometer malecon not once, but twice. They hold it on Sunday for everyone (including families) to enjoy on the weekend and then again on Tuesday. Twice. Two times the party.
The parade seems to even have a halftime and offered a great Mazatlan sunset for Carnaval. The first half is largely floats from the sponsors. Then after the sponsors which included Pacifico Clara Beer, who keeps its beer price low enough for everyone to have to many, (in fact they sell beer in 8 packs in Mazatlan not 6packs) the themed floats arrived. There were 38 floats.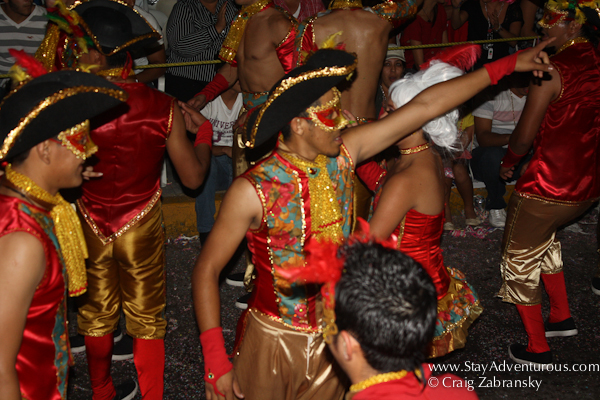 Sunday's parade had over 250,000 thousand spectators and was extremely family friendly. In 2013 the theme was Hollywood an appropriate theme since Mazatlan was the third major city in the world to show cinema to the public with a movie theatre (1897) and was the home of famed golden-age star Pedro Infante.
Brazilians at Carnaval Mazatlan
Apparently each year, more and more Brazilians are invited to come. No one seems to be complaining. Yes, you will get your samba and more importantly Brazilian fashion too.
Travel Adventure Mindset – Safety in Numbers
I don't know many Carnaval celebrations, unfortunately I haven't been to many of them (yet), but I do know 100,000s of people partying all day and night can sometimes lead to trouble. Couple that with walking the streets at 5am and some might worry is it safe?
But, kudos to Mazatlan – I never felt any danger. Yes, I know Mexico and arguably am conversational in Spanish, arguably, but comfort comes from a feeling, a sense of the place and its people. It comes from understanding the energy of the celebrating crowd.  It was amazing to see one of the largest carnaval celebrations be so safe to enjoy, and great to see such a safe celebration in Mexico. Apparently, there truly is safety in numbers. As you can probably tell, I had no complaints.
Stay adventurous, Craig
Special thanks to Go Mazatlan for the invitation to experience Carnaval. This post is part of the Mexican March Madness Series for 2014.