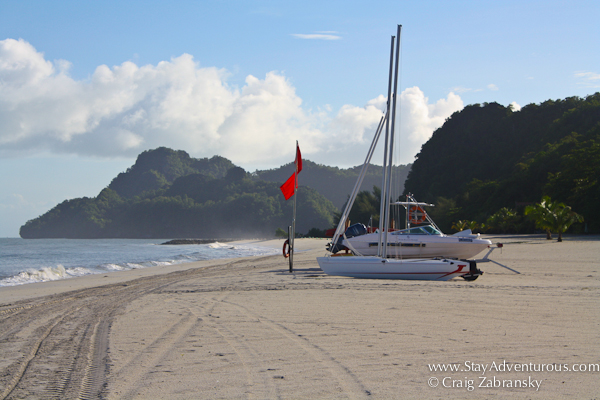 Langkawi, an island off the west coast of Malaysia (close to the Thai border) is a popular holiday spot. Although you don't find many Americans on the island it is very safe for US travelers and English is widely spoken.
I spent four days on the island, which included my birthday. I decided to stay luxurious by pampering myself at the Four Seasons Resort. I can definitely recommend the experience.
Walking the Beach at the Four Seasons Resort Langkawi
I never considered the beach the main draw during my time at the resort. The cuisine (a must try grilled green lobster), cocktails (one of Asia's top ranked bartenders), the pools, spa treatments (yes I had one), and the hospitality all out score the beach in my book.
Yet, don't worry, the beach views are all breathtaking except for maybe one angle with a factory in the distance. Regardless, the beach is beautiful.

The Rhu Bar
The Rhu Bar is a must for sunset. With middle eastern inspired decor including hookah pipes, a Japanese "tapas" menu, and an extensive cocktail list, you are prepared to celebrate the end of the day. I enjoyed the sunset there SO much, I selected an image from the Rhu Bar to be the the cover of my 2014 Sunset Calendar-Chasing the Sunset. (you can still order yours > here)
Stay adventurous, Craig
How to get there? Langkawi has a small airport with frequent flights from Singapore (my flight on Air Asia), Kuala Lumpur and other major Asian cities. There is also ferry access from closer destinations.
Why go?  It is a world away from the States. Sometimes you don't need to go far, other times distance helps (like escaping for a big birthday milestone). The resort was an oasis, and the beautiful island was filled with activities. Next Time I plan to explore more of Langkawi – if the Four Seasons doesn't become a vortex of pampering once again.