The plane landed in Pensacola, Florida and I was in the Florida Pan Handle for the first time. My next stop, the reason for my visit, were the beaches on the Gulf of Mexico. I wanted to learn more about Pensacola, to spend more time in the Florida gulf coast city, but we decided to cross the border and head to the gulf shores of Alabama.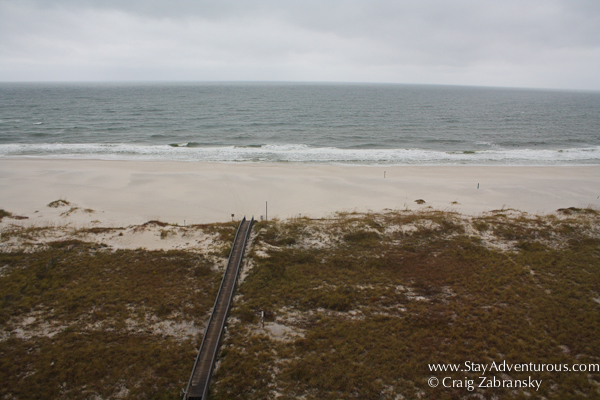 Yes, Alabama has beaches, yet its sixty miles of coastline essentially remain an American secret.
The Gulf
The drive from Pensacola to the Alabama provided lovely views. After passing the famed Flor-bama Lounge we pulled in to The Gulf restaurant for lunch before heading to our rental.

Orange Beach, Alabama
Just steps from the condo, the Tidewater, you can walk across the dunes via a boardwalk and walk on soft, sugar white sand. I took my flip-flops, a beer and my camera to watch the surfers ride the day's last waves before the Alabama sunset on the gulf.
What about the BP Oil Spill?
I saw nothing; no tar, no clean up propaganda, nothing. Sure, it has been a few years, but I was told the Gulf Shores area of Alabama were not hit "hard" when it happened compared to other regions.  Overall, the beaches, fish and animal life are recovering well and Alabama had a record year in tourism.
How to get to Gulf Coast and Pan Handle?
If you are not a local and driving, Pensacola is the main airport. From there driving takes about an hour to Orange Beach, Al.
Why go to this part of the  Gulf Coast?
It's a unique slice of American pie. It's a great destination for families, caters to repeat seasonal travelers, and a wonderful place to explore and learn about a part of the United States you may not know (I didn't). Plus, the sand is incredibly soft, the beach is a great party draw and the people are very friendly (southern hospitality).
Travel Tips
1) Definitely hit the Flor-Bama Lounge (although hardly a lounge) in orange Beach for a beer. It's a legendary place.
2) Also, stop by Beach Bike Rentals and take a bike into the adjacent park for an afternoon of discovery. It's a cheap way to enjoy a few hours away from the beach in Orange Beach
Next time I plan to spend more time on the Florida side… Yes, I'll be back.
Stay adventurous, Craig