Just before flying to El Paso, Texas  I was told – we'd spend a night in Juarez too.
Where? ….. Donde?
Ciudad Juarez.
Yes, that Juarez; the Juarez from the news.
I joked about the fact it was clearly staying adventurous with the trip organizers, but admittedly, I wondered if it was also staying safe. I believe Mexico is relatively safe, but Juarez would test me, how could it not it was once labeled the most dangerous city in the world.
Here is a look at what I discovered in five photos.  Take a look at my twenty-four hours in Juarez.
The Border Town of Juarez
Actually, it is hardly a town. Juarez, a city of 2 million people (I was told) borders the US city of El Paso, Texas (800,000) creating the largest populated border crossing (city-to-city) in the world.
And there is a spot, a place where you can walk across the official border without much interaction or a fence (there are also 4-5 official crossings) A marker in Madero Park highlights a place where Texas, New Mexico and Chihuahua (the state name in Mexico) meet.
Also, besides the marker you'll find a adobe small house now a makeshift  museum.  It is famous because of the leaders who spent time here including the President of Mexico and Pancho Villa. Pancho was also apparently a party to  "secret" meetings with the US regarding the military invasion of Mexico during its Revolution too. I'd learn more about that at our next destination.
 Museo de la Revolucion en la Frontera
A new museum dedicated to the revolution has recently opened in Juarez. It's a very modern building, almost out of place in an old part of town, plans to be a major attraction for the many Mexicans that come to Juarez to obtain legal access to the States when processing paperwork.
Our official guide and historian, Julian Alvarez a professor of Tourism at Juàrez University and a part-time tour guide with Chihuahua Tours explained his take on the revolution as we viewed the many paintings, photos, and artifacts. He believes the revolution was not the romantic movement as taught in school, but that many of the labeled "heroes" didn't truly act as such.
Juarez Cathedral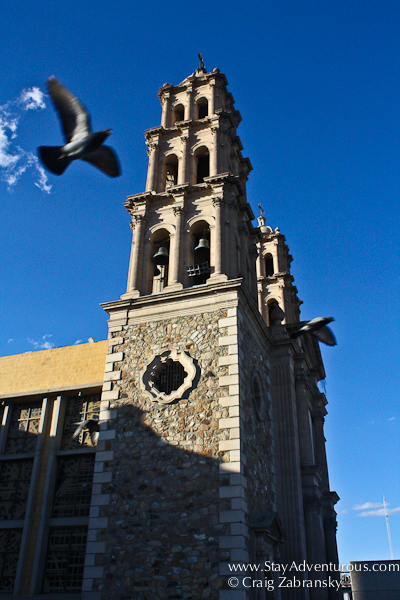 A main plaza in Mexico always includes a church or cathedral.  The catholic church, still at the center of much in Mexico (and in Juarez), impresses with its grandeur in Juarez.  As we walked by, we heard a choir signing outside and watched some child mime performers. Something was being celebrated, maybe it was they spotted a few American visitors?
 The Classic City Streets of Juarez
Strolling is the best way to discover any city. We didn't walk too far from the church and main plaza, just a few blocks en route to the market, but it's on the street that I felt like this was Juarez. I saw the city and its people.
The streets tell the story of the city. In fact, my guide through Chihuahua, Dave Hensleigh of Authentic Copper Canyon would run the streets the following morning in a half marathon. The race was a success, although I missed cheering him on since I went out in Juarez.
 Border Drinks at Club Kentucky in Juarez
Club Kentucky is famous with its legendary story about the creation of the Margarita. Whether the story that the US prohibition caused is true or not, the border bar was packed this evening and served up some fine Margaritas. People were out having a good time on a Saturday night.
And that's what I realized about Ciudad Juarez, people were out and living life. They were running errands, selling pastries, riding buses, and walking the city streets. The city had a pulse and a life, it was good to see it and be a part of it. Ah Chihuahua!
 So Is Ciudad Juarez Safe?
I am not sure that twenty-four hours in any city allows you to make a declaration on anything about the destination. But what did I learn? Well, if Juarez is the most dangerous city in the world (once labeled such) – well, then the world is in a good place.  A very good place.
And the next morning  on the bus through the vast landscape of Chihuahua en route to Chihuahua City, I felt educated through travel. I left as a different person; I had changed.  Juarez wasn't wonderful. I am not recommending travelers flock to the city for weekend getaways when visiting Chihuahua (I will recommend the El Chepe Pacifico Train through Copper Canyon), But it was special. Very special. Yes, special because of the people I interacted with, special because of what I learned about the city, and special because of what I discovered about myself  – and that is the essence of stay adventurous travel.
Stay adventurous, Craig
Special thanks to the Mexican Tourism Board and Authentic Copper Canyon for the invite and opportunity opening my eyes to this part of Mexico. Ah Chihuahua! 
This post is part of the Adventure Mindset Special Series.