The sun officially set on the second year on the Sunset Sunday and now the series embarks on its third year in 2012. Again the year promises new places, new moments, and new memories  aimed to inspire people, you, to pause and appreciate the sunset. And as it continues to grow, I trust more and more will get involved sharing their images. (contact me to learn how)
Sunsets from 2011
What a year. The year, 2011 showcased over thirty-five different locations spanning six continents through nearly fifty posts.
The USA led the way with over twenty posts followed by Mexico with eight sunsets including one from Mazatlan's Zona Dorada written in Spanish.  Readers also enjoyed six sunsets from Africa, two from Asia, two from Europe and five from Central and South America.
My most popular Sunset Sundays (by views) were the Sunset on Lake Atitlan  and the Sunset on the Delaware River in Lambertville. Another popular post was the guest post, and Sunset in Nichupte Lagoon Cancun.
Some of my favorites include the award winning San Blas Sunset, the Key Largo Sunset and two from Puerto Vallarta. I really loved the composition created  sunset at Buenadventura Grand  and the sunset on the malecon.
In all those posts water set the stage for the sunset and over half the posts involved water, but not all. And the most popular sunset not showcasing water involved its opposite, the desert. The images of the sunset at Joshua Tree National Park was also a top 5 sunset (by views).
Sunset Sunday in 2012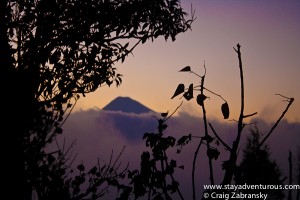 So what's planned for 2012?
Destinations? Yes, new destinations. Already in the works are plans showcase Caribbean sunsets and new locations in Mexico as I continue to work with the Mexico Today program as an ambassador. Also, I plan to return to Florida Keys and finally capture images from the famous Key West Mallory Square and it's daily  sunset party and more.
Special Series? I will continue my special and you can expect some sunsets from Guatemala when Get to Know Guate returns in February and also a few sunsets from Europe as I am planning a European series. And more.
Calendar?  Just like with the 2010 Sunsets and 2011 Sunsets, expect a page for the 2012 Sunset calendar. I plan to release the first three months of the schedule in mid January. And remember, next Sunday will be the first new Sunset Sunday of the year. Its location is still a surprise.
Frequency? I don't plan for fifty posts this year (It proved difficult in 2011), but rather to slow down to three posts a month and focus on reintroducing an old post especially for the (new) twitter followers and fans on the facebook fan page. I realized looking at the views, many great sunset moments and images still need to be (re)discovered. So, I'll select more of my favorite posts and memories from the first two seasons to round out the month. So, expect 36 new posts in 2012.
Well, as the first day of the year comes to end, and the sun sets for the first time in 2012, let's all toast to a joyous New Year filled with multiple special sunset moments for all us.
stay adventurous, Craig