After two full days in San Blas, I booked the third night. The town still intrigued. And to celebrate I returned to the beach with my pen, journal and some pesos for a cerveza to watch the sunset.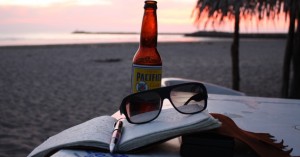 I arrived and selected one of the popular talapas and ordered a Pacifico. My mission to watch the colorful sky and attempt to describe San Blas.
A few pages would not be enough.
I started to write about the road to San Blas, the long obscure passage after the highway that makes anyone question, how remote is this town? I penned  words on its impressive history, a past Spanish colonial glory  and the not to be missed fantastic views at the Fort San Blas.
I described the tourists and how many come to take a river cruise into the jungle to see the wonderful wildlife. Plus the surfers, like me, who came to experience the waves of San Blas.
I continued with the economics of the town. On how no one seems to ever have change (even if its 5 pesos) and how the catholic church serves as its bank. After mass on Sunday all the collections, the coins, are rolled and then traded back to the vendors and cafe owners for bills. The town recycles its coins.
Finally I wrote on the characters, the many gringos who come back each 'season' (Nov-Apr) from States and Canada perform an annual migration to Mexico not unlike the Humpback Whale or the Monarch Butterfly. Although, in San Blas some folks arrive and never leave. Nope they've been "off the grid" (as they told me) for years.
I realized, San Blas is hardly blase.
But as my pages filled, and the stories unfolded, I realized my favorite story of San Blas – the sunset. Happy Sunset Sunday
stay adventurous, Craig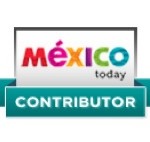 This post is part of the Mexico Today initiative