At first, I was shocked at the price; seventy-five dollars for half an hour seemed steep. I was offered fifty-five (on the phone) at the shop by Snappers (mm94) earlier in the week, but no one was at the dock when I arrived. It's the Keys.
At times, I thought I just wasn't meant to get on the water, and to be honest I almost didn't pay for it out of (foolish) pride, but this was my chance and I dropped my credit card.
For weeks the rough seas and whitecaps eliminated fishing or boating excursions. No trips to the flats for bonefish, no small craft ventures for grouper or hogfish, and no chance for a repeat afternoon at Nest Key (like the prior year).  I just could not get on the water.
For a month, I watched sunsets, ate meals with amazing vistas or just sipped a cocktail overlooking the water. No complaints really, but the water invited, almost teased. I just couldn't find a way until I took a different path. I considered going solo and I considered the Jet Ski.
This was my chance. The choppy sea that hindered now helped as the rough seas created an adventurous ride.
I raced up and down the shoreline by Holiday Isle (mm 84) and took advantage of the whitecaps. Heading straight at the waves I went airborne more than a handful of times. Total Air. Insane (for me). I reached speeds of 40 mph in the high seas and almost 50 mph in the flat channel. I even almost lost control, but I never lost my smile.
I couldn't help but smile. It was pure joy. It seems I picked the perfect day to rediscover the fun of taking a spin on a Jet Ski and I was finally out on the water. Yes, I made it out. Different than expected, but I was enjoying the water as I desired. Mission accomplished.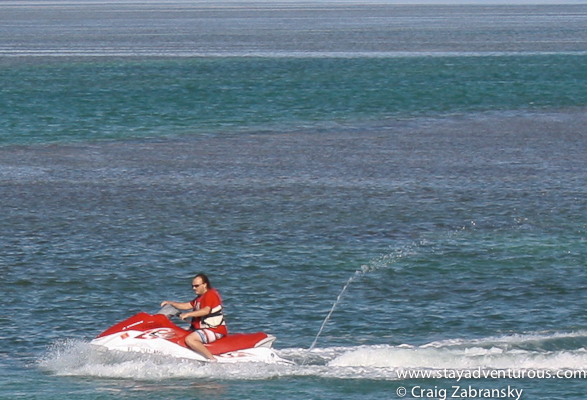 Tip: Stretch before you take a Jet Ski on rough seas. The consistent bouncing put a strain on my quads and I felt it for a few days. I never thought motorized equipment could strain muscles, but it can and does.
Stay adventurous, Craig
Adventure Travel Mindset tip:
As I mentioned, persistence does pay off and in this case, I stayed with my dream to get on the water, and I finally did just that.
There is a Japanese proverb: "There are many paths up the mountain to get the same view of the moon."  When I decided on a different path, I realized my goal. The decision made a difference and also allowed for a rediscovery of fun too.
So in the end, I finally enjoyed my view of the moon and spent some time on the beautiful blue waters of the Florida Keys as planned. So yes, it makes sense sometimes to take a different path.
This post is part of the Autumn of Adventure and the Adventure Travel Mindset series.