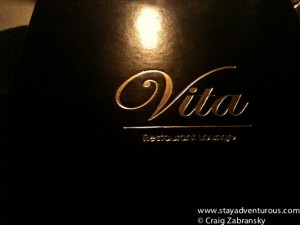 I firmly believe we all need to treat ourselves. We must take time to enjoy life's many pleasures. For many, including myself, that occasionally translates into tasting great cuisine. Simply, food is more than subsistence. Good food makes a good day and great food makes for a great day. And when you travel to South Beach one way to begin a great night is with Vita by Baoli.
I arrived twenty minutes late to an 830pm reservation, but in Miami that is probably on time. Plus, the initial emptiness allowed for an augmented appreciation of the scene. And it wasn't long before the who's who and the visitors who come to enjoy the special sizzle of South Beach arrived to dine.
The mediterrean cuisine offered numeorus options, but after a relatively light diet (fish) for the past few weeks I decided to go heavy. I started with foie gras. It's hard for me to refuse the appetizer when it's accompanied with mango. And I am glad I didn't. The first course paired properly with a wine thanks to my knowledgeable Argentine waiter was prepared to perfection, properly seared and divine.
I was unsure of my entree and inquired about the lamb chops. Was it too much? too filling ? My waiter approved my selection and recommended a meaty malbec to match. In fact he paired all the table's selections with appropirate wines.
What initially seemed as an endless array of chops I completed with a smile. I slowly ate each and every savory bite. Delicious.  And then dessert was ordered and finished in the same savory, slow manner. We sat for hours, talked conversed and enjoyed the open air seating and the scene.
It's the type of place and meal one talks about for days and weeks afterwards. Yes, you spend for it, but again this is what life (Vita) is about sometimes. Enjoying a meal and when great food makes for a great night.
Tip: The wine menu is stacked with organic wines, so select a few wines or a few bottles and try some organically grown wines.
Stay adventurous, Craig
This post is part of the Culture Thru Cuisine Series and is the third of five posts on Miami. Also, I'd like to thank Vita by Baoli for inviting me to experience their cuisine.