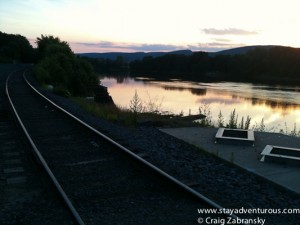 Today, most of my family lives in the Pocono Mountain region of  Pennsylvania. And Pittston, PA might serve as the equidistant center for everyone.  So it made perfect sense to meet there for dinner.
We selected Cooper's Seafood House Restaurant and Bar. And with the new "Cabana" extension designed to mimic a Key West feel, I assumed the sunset would be magical.
After a memorable meal, I walked outside down by the river to enjoy it. Magical, it was.
The images, snapped with my iPhone, were certainly not comparable to any Key West sunset. Nope, the moment resembled true Pennsylvania. The small town along the Susquehanna River, a history tied to coal mining,  and a scene filled with mountains and railroad tracks created the iconic Pennsylvania moment.
No, it wasn't Key West. It was a perfect PA moment.
Stay adventurous, Craig