This is definitely an interesting way to celebrate the sunset. For this Sunset Sunday we return to Montana and discover ha tale of a sunset celebration from Glacier National Park. Thanks for sharing the memory with us Joshua.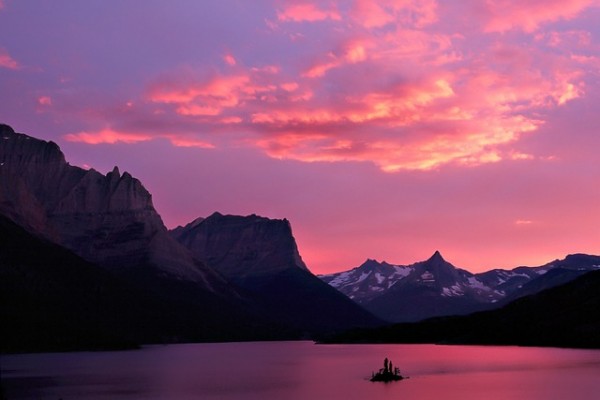 We waited for the sunset moment and knew St. Mary Lake and Wild Goose Island in Glacier National Park was the place to be to capture it. Even before we arrived, I knew that the event would be lit. Exploring St. Mary Lake and Wild Goose Island in Glacier National Park was something I had always wished for.
This sunset moment was one I had waited for and I remember the experience as if it happened yesterday. Sunset time was always a time for lots of surprises and guess what? it was my birthday day. Yet, I had no idea of what my pals were planning to do. I thought the plan was to take crazy photos of the scenic view of Glacier National Park.
I would be the photographer and l was ready to take the photos. Then some police officers caught up with me, and l was "arrested" for taking the photos in Glacier National Park. I tried to plead with them and my friends tried too, but all pleas were ignored. My heart was now beating fast and I was now shaking.
I wished I were stronger than the Biblical Samson, but they say 'if wishes were horses beggars would ride.' Icy trickles of sweat ran down my cheeks. It was after this I found myself in a dark room locked by the police officers. Just then, I heard good sounds of music and my friends emerged singing a happy birthday song.
I smiled brightly at the surprise. I received lots of gifts in life, but the day at St. Mary Lake and Wild Goose Island in Glacier National Park will always be remembered. We took lots of pictures and it was at this time I realized how special it is to celebrate sunsets.
-Joshua.
Author's Bio: Hi guys, my name is Joshua. founder of MadOutdoorist.Com, I was born into a lovely family that loves nature and adventure. The goal of Mad Outdoorist is to provide you with all the information you need for a successful out-of-city adventure.