During two recent cruise sailings, a return to Fathom Travel for a social impact travel adventure that included my first ever stop in Cuba in  Santiago de Cuba and the other a six night Western Caribbean adventure on board the Carnival Cruise Line flagship Carnival Vista, I utilized a few travel related products for the fist time. I used packing cubes, a new passport cover and a excursion money belt. See what I discovered and loved about these new (to me) products.
Packing Cubes
Inside my suitcase I used two Packing Cubes from Lewis N Clark. This pack of 2 separate "cubes" allow users to segregate specific items of clothing or accessories in the suitcase to allow for easy access inside a large, at times black hole of a bag.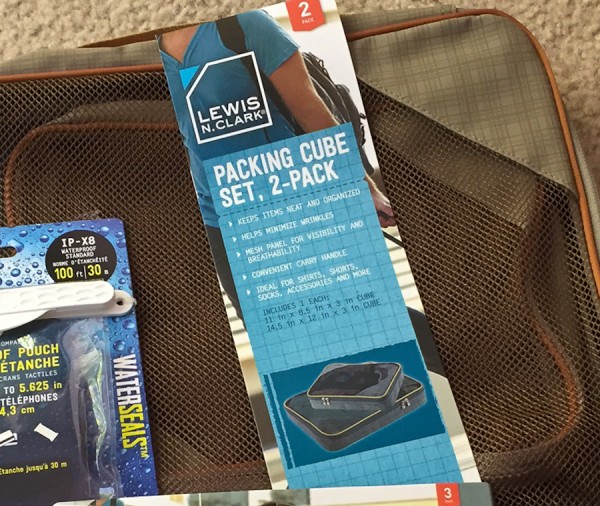 I packed up swim wear, a nice casual elegant outfit on one trip, favorite t-shirts, and accessories on the other during my four "packs" and uses on these trips. I am still not positive exactly what is best inside the cube on a cruise, since you do unpack everything, but I will learn with more sailings and even learn more on other travel adventures.
Also, for disembarkation from the ships, I packed my remaining "clean" clothes inside the cubes to keep them separate and make for easier unpacking and laundry at home. Sure, I could pack better, but remember it was a cruise and I drove to the port so I over-packed.
The set of two packing cubes comes in multiple colors including my selection of plaid and currently retails for $34.99 at Lewis N Clark and can be found on Amazon and even in retail stores like JC Penny.
Something else I loved: I did learn how valuable these packing cubes would become for my summer road-trips in the USA. I can easily pack a one-day change in the larger cube with any other nighttime needs in the smaller cube when stopping at a hotel for the night. I will no longer need to bring in the entire suitcase or attempt to locate items in the parking lot with my iPhone flashlight.
Passport Cover
On these adventures I traded my old passport cover for a ParaSgula Passport Cover. The new cover proved smaller and a tighter fit that ctually made it simple to add a few business cards, specific travel plastic, etc. Sure, you can't slip both the passport cover and back cover into the inside plastic, but remember you always need to take it out to show airline counters, customs, TSA and even scan in those self service kiosks.
You can select any image from the many included on the numerous Amazon store web pages for ParaSgula. The passport cover retails for 9.99 and is on Amazon Prime too.
Something else I loved: Wrapping my passport in a perfect surf wave serves as a gentle reminder each time I travel to make and take time for an adventure I love – surfing. Unfortunately my cruises did not afford me the opportunity to find waves with a surf board, but I'll be sure to make that happen later in 2017.
Excursion Money Belt

I never really considered myself a fanny-pack guy, but this sleek, slim travel Excursion Money Belt from Happy Luxe is a winner with me. The product is perfect for gym workouts on the road. With two compartments (one zipper, one velcro) there is ample space to store a hotel or cruise room card, a smart phone for music and also simple identification, cash and a credit card if desired. Plus, with the velco strength for the belt itself it keeps tight to your waist. This product will not be a "target," on the road.
The excursion money belt retailed at Happy Luxe for $28, but is now on sample sale for $10.
Something else I loved: I believe this is even a perfect exercise belt for morning jogs. I use it each morning I exercise with my iPhone and head out taking a morning walk or run tracking my distance with the Charity Miles App.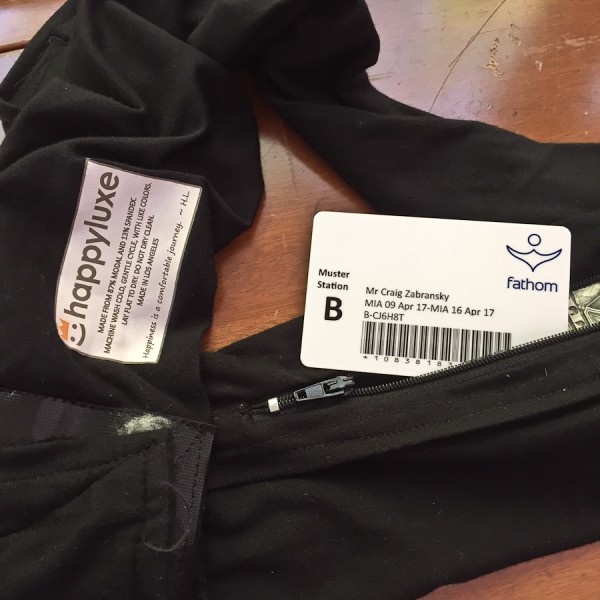 Stay tuned for more product reviews, Craig
I received all these products at no financial cost to sample on my travels, however the words and opinions remain my own.