Churchill, Manitoba is north. Far north. It is on the edge of the Arctic Circle and near the tree line. That's the line where the trees end and the ice world begins (in winter). In summer I imagine the tundra to be beautiful, but my trip took me up north in winter to view the Northern Lights.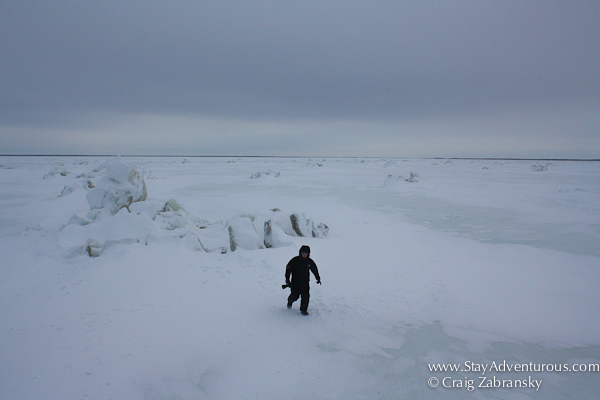 One evening as part of our arctic adventure we stopped on the Churchill River to take photos among the hummocks. These large ice formations caused by moving tides beneath the frozen ice and the rocks in the river bed towered in heights of 10-14 feet easily. Enormous and at times invisible among the shades of white and grey.
Pictured is Dan Harper, a professional photographer who often stayed out in the cold the longest to capture the perfect image. I took his image from the rear platform on the Tundra Buggy. All I could think of was Han Solo on Planet Hoth from the movie the Empire Strikes Back.
Stay adventurous, Craig
This postcard photo was taken during my trip to Manitoba, Canada. Special thanks to Travel Manitoba and Frontiers North for passage to the great white north. Many more stories to come. Stay tuned.  And all links are to the twitter accounts, I'd follow these accounts.