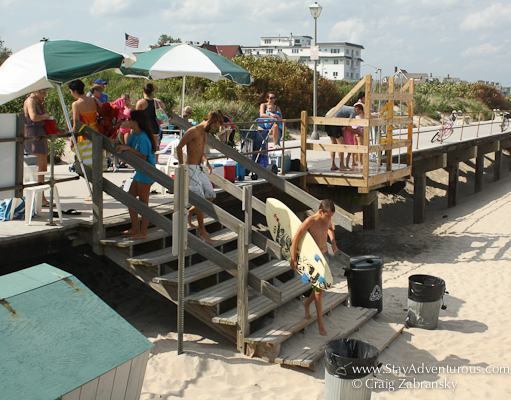 As a New Yorker, I am not supposed to be a fan of New Jersey. But truth be told,  I learned to surf at the Jersey Shore and I am a fan. My first time paddling past the break was in Spring Lake, a beach where I spent seven straight summers.  I had some good times at the shore, some real good times.
Now, no longer a shore house share participant, I still return for at least one session on the waves each summer. My good friend, fellow surfer and shore house compadre, joins me for a surf session in Spring Lake or Sea Girt every year. It is an annual pilgrimage we both enjoy. These photos are from my 2012 trip.
I realize our next trip will be different. (No) thanks to Super Storm Sandy the shape of the Jersey Shore beaches (and Long Island) has changed. And this summer, I plan to make a few trips to visit the shore communities to support them with my business (and of course paddle out to catch a few waves too). Hey, maybe I'll even try something new, I noticed some Kite Surfing in Spring Lake last year too.
Kite Surfing at the Jersey Shore
Well maybe not yet, but either way, I hope you join me (if you are local to NYC) and head to the beaches in New York and New Jersey this summer to support the communities. And when you do go, hopefully you'll see me on the waves.
stay adventurous, Craig
This post is part of the winter 2012-13 Beach Thursday series. Enjoy a beach post every Thursday to keep you warm all winter long.