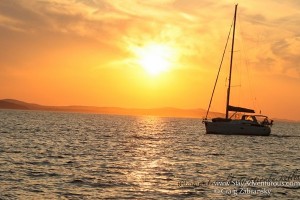 When Anita Mac started telling me about the sunsets from Croatia and specifically Zadar, I wanted to see them. Thankfully she agreed.
I met Anita during the New York Times Travel show and we chatted over a travel blogger dinner meet-up. I am glad we talked sunsets, because now I can share one from this part of the world with you.
Anita's Words:
Alfred Hitchcock said it in 1964 so it must be true:  "The sunset of Zadar is the world's most beautiful and incomparably better than in Key West, Florida".  How could I resist…one of the best sunsets in the world.  
When in Zadar, a local tour company offered boat cruises throughout the day and I knew I would be on board for sunset.  I waited all day, anticipation growing.  As the sun slowly dipped into the Adriatic, the fiery reds and oranges lit up the evening sky, bathing everything in sight in a warm glow.  It was a magic moment and well worth the wait.  I closed my eyes for but a moment as the warmth washed over me.  
I have always been fascinated by sunsets – the warm, happy glow to mark the close of the day.  It is such a peaceful transition from day to night and the perfect time for reflection.  To capture the sunset at sea only adds to the magic and mystique. 
No wonder Hitchcock declared it to be the most beautiful sunset in the world – Zadar's sunset was breathtaking.
-Anita
Anita MacKinnon of has slowly been crossing destinations and adventures off her multiple bucket lists and is living to travel and experience the world. Her main question is where to next? You can follow on her Travel Destination Bucket List site also on twitter at @WhereToGoAM
And do you agree with Alfred Hitchcock? Is this sunset better than the sunset in Key West?