On each and every new trip to a city, certain adventures always rise to the top of my to-do list. One is a walk and after I strolled the streets of Oaxaca on Sunday, I decided to make sure I performed another "must" the following morning. I headed straight to the main market, Mercado Benito Juarez, for a true "Market Monday."
Many markets contain similar items, similar souvenirs, foods, flowers, fruits, and trinkets, but there is always something new, something different. It's why I go. It's the sense of exploration and discovery of  a culture.  The new smells, sights, sounds, strange textures to touch, and tantalizing tastes keeps one adventurous. It surprises. And I am happy to report, the main market in Oaxaca had its fair share of surprises.
Imported Fish at the Market
Arriving just after it opened I started to make my rounds through all the stalls and stands and the smells arrived well before I did. I always parade through the fish, poultry and meats sections. I think we can easily forget where our meals come from, but a stroll in any market, and you are quickly reminded.
My surprise came when conversing with a gentleman selling fish. Imported? I talked briefly (it was in Spanish) at a fish stall and he told me the Tilapia was imported from China. Made (or raised) in China? Ah, that was  something I didn't expect in the marketplace of Oaxaca. Supermarket, maybe, but the open market, nope. Apparently global trade reaches all corners of the world and that includes the local market in Oaxaca too.
Chapulines – Mexican Crickets
I first tasted chapulines in the Riviera Maya at Hacienda Tres Rios and then again in Puerto Vallarta at El Arrayan, but now I was where the crickets are captured, Oaxaca. In the market there were thousands and thousands. One large heap of chapulines after another and all prime for tasting. (they are crunchy and a bit salty).
The ladies teased me as they thought I'd never seen the insects for sale before. I have, but the sheer volume did surprise me. Just mounds of dead, dried insects everywhere. Who was buying all these insects?
Mexican Piñatas
Probably the most pleasant surprise was the walk through the aisle colorful piñatas. All shapes and sizes hung from the market ceiling. I have not seen so many for sale since Mexico City years earlier. In the market a complete row was dedicated to childhood pleasure.
I walked the aisle slowly and as if it were a museum carefully enjoying each piece as art work.  I even started to wonder when I might receive my next invitation to a fiesta complete with a piñata.  Hopefully soon. Very soon.
stay adventurous, Craig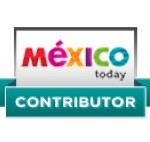 This post is part of the Mexico Today program. I am being compensated for my work in creating content as a Contributor and Ambassador for the México Today Program.  All stories, opinions and passion for all things México shared in my blog are completely my own. Viva Mexico!
Additionally this post is part of the Market Monday series.