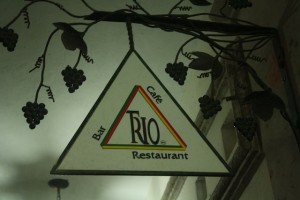 When a German chef receives accolades, I am often impressed. They toast to an orderly "meal time" in Germany. It's not a food culture. But Bernhard Guth's resume impresses. He even spent some time at Bouley in New York. (For those not up on the New York scene, it's on all the lists) And now as chef of Trio he is making lists and building a reputation in Puerto Vallarta too.
The two-level restaurant, located in the heart Puerto Vallarta, provides a mediterranean style ambiance and menu. The first level creates a relaxed mood. As we walked passed the elegant bar I desired a liquid appetizer to begin the experience.  You would too. but, no dice this time as our table was ready.
We walked up the stairs and sat at a lovely round table and Bernhard greeted us to discuss the menu. The jolly chef and co-owner along with the other recognized European chef, Ulf Henrikkson, seemed ready for us. Instantly, from our initial interaction, I could easily tell Bernhard loved his job and he loved his  food. We were in for a memorable evening.
Although we already enjoyed small plates at the Hot-Listed Cafe des Artistes, the chef couldn't resist starting us with a special plate of seafood appetizers as we selected our mains. And for me, after some recent Mexican at El Arrayan and plenty of fish on the coastal city, I decided to select a hearty dish. I chose lamb chops. I chose wisely.
The cuisine truthfully didn't remind me of any Mediterranean meal from my past, yet I realized it held the true Latin charm. Our large table filled with many friends both new and old, sipped wine and conversed about food. We discussed our past meals, our present dishes, and planned our next one. That's Mediterranean. And that's the perfect Trio of conversation.
Tip: Order mashed potatoes. I don't normally recommend a starch, but after one taste I knew. And when the Chef returned to check in, I asked, "did you use mace?" He smiled and said yes. I took another taste. Yum.  I use the same ingredient in my own now famous family recipe. Another Mediterranean reminder – family recipies.
Stay adventurous,
-Craig
This is third installment of the Culture Through Cuisine Series and the forth of  five posts on Puerto Vallarta, Mexico. Additionally, this post is part of the Mexican March Madness 2011 series.
Also, I'd like to thank Trio for its generousity and hospitality.