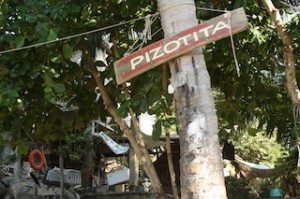 The beach. It's one of the many reasons people travel to Mexico, perhaps the most common reason. I'm not surprised. Mexico has amazing stretches of sand.  And lunch on the beach, well that is truly part of the culture (through cuisine) in Mexico too.
During the Beach Thursday series this winter, I highlighted a few of these Mexican beaches; Stone Island, Deer Island and Golden Zone in Mazatlan, Medano Beach in Los Cabos, Mamitas at Playa del Carmen, and also the surf beach of San Blas. All of the beaches provided visitors a chance to eat on the beach. The same is true for Pizotita outside Puerto Vallarta.
To arrive at many of similar beaches on the bay, you need to arrive by boat. And for Pizotita, one passage is through taking a tour. As part of the Sea Safari excursion by Vallarta Adventures, a day that includes horseback rideing to a waterfall and snorkeling in the bay, you'll eventually unwind for a late lunch at Pizotita. A lunch that includes food, freshly mixed cocktails, and some rest & relaxation on the secluded and seductive sands.
Many times, the food you receive on such trips can be politely classified as sub-par. Eating seems more of a way to stall the affects of the extra cocktail from the all-inclusive makeshift bar, than an enjoyable experience.
But everything seemed to be top-notch on the Vallarta Adventures. The boats, the guide, the equipment, and eventually the lunch. I was impressed. I enjoyed a full plate, and was not shy about seconds. I might have even had thirds on the fresh flamed grilled quesadillas, I am not telling.
After lunch, a bit of a siesta in a hammock then we departed back to the marina in Puerto Vallarta. The day a memorable one, and one enhanced by lunch a Pizotita.
Tip: Definitely try the speciality cocktails if Casear is your guide. He makes a special drink that sets the mood perfect for a relaxing afternoon on the beach after an adventurous day.
Stay Adventurous, Craig
This is the final post lucky 13 (13 of 13) in the Winter Series – Beach Thursday, a Special Series on Stay Adventurous. Also, this is third installment of the Culture Through Cuisine Series and the third of  five posts on Puerto Vallarta, Mexico. Additionally, this post is part of the Mexican March Madness 2011 series.

And a special thanks to Vallarta Adventures for providing a fantastic day on the Bay in its Sea Safari Adventure.