---
Are you a passionate traveler looking to enjoy a vacation somewhere steeped in vibrant culture and rich traditions? Buenos Aires, the capital of Argentina, has everything you are looking for and more. Its exciting tango music, exquisite neighborhoods and delicious cuisine are only some of the things that make this city a dream destination for anyone wanting to explore South America. If you wish to create unforgettable experiences in the captivating streets of Buenos Aires, this guide can be your travel companion.
Exploring Buenos Aires Neighborhoods
Each of Buenos Aires' diverse barrios or neighborhoods offers a unique flavor of the city, making it a melting pot of culture and experiences.
Palermo is a trendy district where you'll find lush green parks, hip cafes, and vibrant street art. It's the perfect place to soak in the local vibe, enjoy a cup of Argentine coffee, and take a stroll in the shade of towering jacaranda trees.
Meanwhile, San Telmo takes you back in time with its cobbled streets and colonial architecture. This barrio is famous for its antique shops and the iconic Sunday Feria, locally known as Feria de San Telmo. In this bustling market, you can find anything from vintage treasures to live tango performances.
If you love hanging out in places with a bohemian atmosphere, then the colorful district of La Boca is a must-visit. Stroll along its world-famous Caminito street and be welcomed by a refreshing burst of vibrant colors. Also enjoy the splash of lively energy created by artists, musicians, and, of course, passionate tango dancers.
When planning a trip to Argentina in 2024, it's wise to consider getting a vacation package from Exoticca. The travel company offers meticulously crafted itineraries that not only ensure you experience the city's top attractions but also provide insider access to hidden gems and local traditions. Their deals take the hassle out of trip planning, offering a convenient and comprehensive way to make the most of your Buenos Aires adventure while enjoying the expertise and support of experienced professionals.
Must-See Attractions in Buenos Aires
When in Buenos Aires, visit some of its wide array of captivating attractions to make your trip even more memorable.
Plaza de Mayo, the city's main square, is steeped in history. Considered the epicenter of political and cultural life in Argentina, it's surrounded by architectural marvels like the Casa Rosada, where Eva Perón famously addressed the nation.
Also visit La Recoleta Cemetery for an architectural and historical experience like no other. It's a city of (and for) the dead, where grand mausoleums house the remains of some of the country's most prominent figures. It's both eerie and beautiful, a place where history and art converge.
For a dose of high culture, head to the Teatro Colón, one of the world's most renowned opera houses. Even if you're not catching a show, taking a guided tour of this architectural gem is a must.
Indulge in Local Cuisine
No trip to Buenos Aires is complete without savoring the delectable local cuisine. Empanadas are savory pastries filled with a variety of ingredients, such as ground beef, cheese, and vegetables. If you need a quick, on-the-go snack, just grab these tasty treats. Asado, on the other hand, is a carnivore's dream. This Argentine barbecue often consists of succulent cuts of beef, sausages, and ribs grilled to perfection and is popularly paired with a glass of Malbec wine for the full experience.
Lastly, Mate, a traditional South American tea, is an integral part of Argentine culture. This herbal infusion, served from a gourd, is the perfect companion when hanging out and sharing stories with the locals.
Tango in Buenos Aires
Tango, the sultry dance that embodies the soul of Buenos Aires, cannot be missed. It's not just a dance; it's a way of life in this city.
Visit the World Tango Museum to discover the history of Tango, from its humble beginnings in working-class neighborhoods to its rise as a global sensation, as well as to explore the stories of the legendary tango musicians and dancers. If time permits, also catch a live Tango show, where you'll witness the passion and sensuality that define this dance. The music, the outfits, and the fiery performances will leave you mesmerized. But don't just be a spectator. Why not try learning the dance yourself? Sign up for a Tango lesson to experience its intricate footwork and intimate embraces.
Local Traditions Beyond Tango
While Tango is at the heart of Buenos Aires' traditions, there are other customs and celebrations that you shouldn't miss.
Gaucho culture offers a glimpse into the life of Argentina's cowboy. By visiting a working estancia (ranch), you'll witness skilled gauchos showcase their horsemanship. As a bonus, you may even get to savor a traditional asado in a rustic setting.
The Mate drinking ritual, a social activity that brings people together, is another tradition vacationers must try. Experience the camaraderie of sharing mate, the national drink of Argentina, by joining a local family or group of friends.
If the visit is timed right, tourists can also participate in local festivals and celebrations like Carnival and Independence Day. During these events, the city comes alive with vibrant parades, music, and dancing, offering a window into the heart of Argentine culture.
Practical Travel Tips
To guarantee a smooth and fun trip, here are some practical travel tips:
Currency and Language: The local currency is the Argentine Peso, and while Spanish is the official language, you'll find English spoken in tourist areas. It's wise to have some cash on hand, as not all places accept credit cards.
Safety and Transportation: Buenos Aires is generally safe, but it's essential to stay vigilant, especially in crowded areas or when taking public transport. Make use of reliable transportation options like taxis and ride-sharing services. You can also hop on a bus or take advantage of the vast network of bike lanes in the city.
Best Time to Visit: The best time to visit Buenos Aires is during the spring (September to November) and fall (March to May) when the weather is pleasant. We recommend avoiding the peak of summer as it can get scorching hot and quite crowded.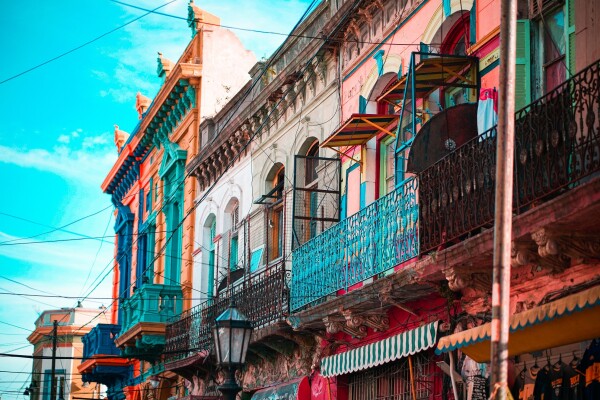 Buenos Aires: A Journey to Remember
Buenos Aires is a captivating city full of life, culture, and passion. From the enchanting tango dance to the delicious local foods, your journey to Buenos Aires promises to be unforgettable. Simply follow this guide to discover all the best places to visit, delicacies to sample, and traditions to try with the locals for a journey to remember.