Kansas City, Missouri, famously known as the "City of Fountains" and the "Heart of America," is a vibrant metropolis, packed with memorable experiences for every adventure seeker.
Photo by Tianyi Ma on Unsplash
With a rich history, diverse culture, dynamic food scene, and plenty of outdoor and recreational activities, Kansas City offers a multitude of thrilling experiences. Let's embark on a journey to uncover some of the unique adventures that Kansas City has in store.
A Taste of Kansas City: The Culinary Adventure
Kansas City is famous for its culinary scene, particularly its signature barbecue style. Embark on a food adventure across the city and savor the delicious fare at iconic BBQ joints such as Joe's Kansas City Bar-B-Que, Q39, and Gates Bar-B-Q.
To add a twist to your food adventure, join one of the many food tours offered by Taste of Kansas City Food Tours, where you can explore the city's culinary landscape and its history simultaneously.
The Thrill of Speed: Kansas Speedway
For those seeking a high-octane adventure, a visit to the Kansas Speedway is a must. Here you can feel the adrenaline rush of NASCAR racing. For a more hands-on experience, Rusty Wallace Racing Experience offers you the chance to drive a real racing car on the track, ensuring an unforgettable adventure.
Accommodation Adventures: Kansas City Hotels
Equally as adventurous as the city itself, Kansas City's accommodation options are diverse and cater to a range of preferences. The best hotels in Kansas City offer something for every visitor. Luxury seekers might find solace in The Fontaine, a sophisticated hotel with an artistic flair, offering a rooftop pool and a captivating view of the city's skyline.
Those who enjoy historical charm should consider a stay at the 21c Museum Hotel located in downtown Kansas City, offering an integration of contemporary art museum and boutique hotel.
For a more modern and chic experience, The Crossroads Hotel in the city's creative district provides urban luxury with a rooftop bar, several restaurants, and a stunning view of the city.
Finally, the budget-conscious adventurer can find comfort and affordability without sacrificing quality at hotels like the 816 Hotel in the heart of Westport, known for its thematic rooms that celebrate unique aspects of the city. Whichever type of accommodation you choose, you'll find the warm, welcoming spirit of Kansas City echoed in its host of hotels.
Immersive History: The World War I Museum and Memorial
Kansas City, the vibrant heart of America, holds a unique and invaluable gem that transports its visitors back in time – the National WWI Museum and Memorial.
Revered as one of the city's most iconic landmarks and the nation's leading institution dedicated to remembering, interpreting, and understanding the Great War and its enduring impact on the global community, the museum stands as a poignant tribute to the transformative event that shaped the 20th century.
Housed within the museum is an impressive and diverse collection, the comprehensive assembly of which is an astonishing feat in itself. With over 330,000 items, the collection encapsulates a broad and profound representation of the Great War.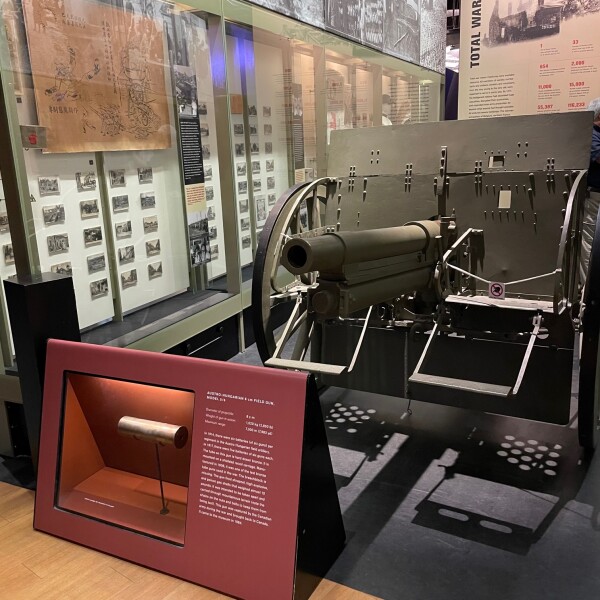 From the personal objects of soldiers and civilians, photographic collections, film footage, to a trove of military equipment, the breadth and depth of the collection provide an encompassing perspective of the war. Each piece narrates a piece of world history that unfolded over a century ago, offering a fascinating insight into the events and experiences of the period.
But the museum is more than just its extensive collection. It offers an engaging and immersive experience that makes history accessible and relatable to modern audiences. The museum's state-of-the-art, interactive displays and exhibitions, such as the life-size trench replica and the walk-through crater, allow visitors to step into the shoes of those who lived through the Great War, enhancing their understanding of the war's realities.
The museum gives voice to the personal stories of the people involved in the war. By sharing firsthand accounts, letters, diaries, and oral histories of soldiers, nurses, civilians, and leaders, the museum humanizes the war experience, connecting visitors with the real people behind the historical figures and events. The National WWI Museum and Memorial, with its holistic and authentic representation of the Great War, is more than just a destination for history enthusiasts. It serves as a place of learning, reflection, and remembrance, offering an unforgettable experience to anyone keen on understanding one of history's most significant and impactful events.
Visitors leave with a newfound appreciation for the past and a deeper understanding of the world's shared heritage, solidifying the museum's role as a vital cultural institution in Kansas City and beyond.
Adventure in Nature: Hiking Trails and Parks
Kansas City boasts a variety of hiking trails and parks, offering adventurous souls a chance to connect with nature.
Swope Park: Spanning over 1,800 acres, Swope Park is Kansas City's largest and offers a zoo, an outdoor theater, and various sporting facilities. Adventure seekers can enjoy biking, hiking, and horseback riding on its various trails.
Parkville Nature Sanctuary: Offering several trails through forest, prairie, and wetland environments, the sanctuary is perfect for hikers and nature lovers keen on exploring native Missouri wildlife.
Cliff Drive State Scenic Byway: For a thrilling cycling experience, Cliff Drive offers a 4-mile traffic-free route through woodlands, providing stunning views of limestone bluffs and the Missouri River.
Sky-High Adventures: Hot Air Ballooning
For an unforgettable sky-high adventure, consider a hot air balloon ride. Companies like Kansas City Aerostat Adventures offer rides providing breathtaking panoramic views of the cityscape, making it an ideal adventure for thrill-seekers.
Nightlife Adventures: Kansas City Jazz Scene
Kansas City's nightlife offers a vibrant mix of experiences, but the city's jazz scene is legendary. Immerse yourself in the rhythm of Kansas City at the historic 18th & Vine Jazz District, home to the American Jazz Museum and several renowned jazz clubs.
Kansas City, MO, offers a unique blend of experiences, merging history, nature, gastronomy, sports, and music into an unforgettable adventure. No matter what type of adventurer you are, Kansas City promises a journey packed with memorable experiences. So pack your bags and get ready to explore the heart of America.
Kansas City, a Treasure Trove of Adventure
In the heart of America, Kansas City, Missouri, brims with a plethora of unforgettable experiences, perfectly designed for adventure seekers. If you are about to sing Kansas City, Here I come you will find a great destination for an adventure.
From the echoing history in the National WWI Museum and Memorial to the tranquil beauty of its parks and hiking trails; from the tantalizing BBQ joints and food tours to the adrenaline-infused speedway, Kansas City offers an engaging blend of attractions.
Add the soulful rhythm of the jazz scene, the thrill of a hot air balloon ride, and a multitude of charming accommodations, and you've got a city that invites explorers of all types.
So whether you're a history buff, nature enthusiast, foodie, speed junkie, or music lover, embark on your adventure in Kansas City, MO, where unforgettable experiences await around every corner.