Moscow is a big and populous metropolis. There are many magnificent locations in the city, and many of us dream to visit someday. There are plenty of important historical locations, great parks, big rivers, large artist avenues, excellent restaurants, clubs, pubs, bars and more.
The choice is yours in this city and when you plan a trip to Moscow make sure you confirm any Russian visa requirements at Visa Express.
Top Travel Attractions in Moscow
When someone says Moscow most of us think Kremlin, Bolshoi Theater, Lenin's Mausoleum, Red Square, and St. Basil's Cathedral. Each of these locations is unique and historical significant interesting in its own way. Travelers who appreciate history will look to visit all of these places.
Snapping a few photos a few photos in front of these places will transfer the vacation into an unforgettable memory, but Moscow offers much more than a chance to grow a photo album.
Cafes and Restaurants
You can also find numerous restaurants in Moscow. They offer all types of food, including traditional Russian ones. It is definitely great to explore that part of Moscow too, do not regret visiting some of the quality restaurants in the city. Yum.
Of course, not all are at the same level, so you should pay attention during the selection, but regardless of where you stay Moscow offers quality cuisine across the city. Enjoy.
Nightlife – Moscow After Sunset
People however, often want to explore the culture of the city after the sunset.  Moscow definitely has a large number options for all types of travelers. Visitors will find excellent performers, singers, artists, and music until the morning hours. Plus so not forget the quality alcohol drinks of all sorts, especially vodka to enhance an evening.
Moscow is great at night too since walking and the city remains quite safe. However, you should not go too far from the center at late hours and as you may suspect it can be pretty cold during winter days, so it is necessary to pay attention to clothing selection.
The nightlife clubs are excellent places if you want to see how the youth lives in Moscow. Such locations are usually full of young people, so it might be a great place to meet new friends too.
Parks, Streets and Squares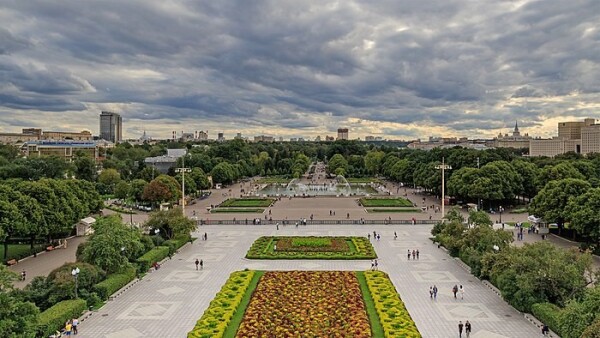 Moscow is a big city, and there is a lot of free space. It is definitely excellent because the place provides many opportunities when it comes to walking and enjoying. You can visit various parks, big streets, and squares to spend your free time that way.
Moscow is also a city where many artists live and work. Some of them have created mutual communities, so you can find various artist's avenues in different parts of the city. These are definitely great if you want to explore different sculptures and paintings produced by different creators.
Travel Budget
The prices of some goods and services might be pretty high, compared to some other locations in Europe, but it remains worth it for the adventure in culture, cuisine, and more. Russia uses the Rouble (RUB) for its currency with an exchange rate of ~65 robles to the US dollar (72 to the Euro). You can use credit cards for accommodations and restaurants, but you will want to still use cash at many places.
A beer will cost >$5 and Coffee >$3 but for more details on prices review the currency in Moscow
Well there you have a quick overview of Moscow, I hope you enjoy your trip to the Russian world capital. Let stay adventurous know what excites you most about a trip Moscow, the capital of Russia in the comments below.
-Francis