Costa Rica is a natural oasis squeezed between the Pacific Ocean and Caribbean Sea and home to 121 volcanic formations. Don't worry, only seven are active. This lush landscape calls to thousands each year for its abundant biodiversity which provides a background as beautiful as its inhabitants. Being repeatedly voted in the top 5 on Happy Planet Index, it is easy to see why natives and tourists alike venture here to seek escape to paradise.
When visiting Costa Rica it is important to understand the diversity of the rainforests and weather as several issues can arise turning your serene adventure vacation into a soggy mess. Rainy season runs from April to November and bring rain day in and day out. Locals even have 15 different ways to describe the rain! So Plan your Costa Rica adventure for the dry period and get a jump on the other 1.5 million tourists visiting each by booking your Costa Rica hotel or resort in advance on sites like Expedia and TripAdvisor .
With some of the world's best beaches, search for the natural beauty too. With 25% of its land protected in nature reserves and parks it won't be hard to take in the natural beauty in this country. Yet, if you find yourself overwhelmed with the decision of which volcanoes and rainforests to dive into- here is a quick list of must see stops.
1. La Paz Waterfall and Gardens
Located in the Central Highlands about an hour from San Jose is the La Paz Waterfall. A short trail brings you within feet of the waterfall allowing you to feel its refreshing mist and take in the amazing view of the falls from above.
Follow the path down the rushing La Paz a bit further to reach the gardens. You can stroll through the orchid garden and frog ponds where you can find leaf frogs and dart frogs alike. There is also the hummingbird garden, housing over twenty different species in a natural habitat or the Serpentarium with dozens of snake species native to Costa Rica.
Be sure to make time for the largest butterfly garden in the world at the La Paz Waterfall Gardens. You have the ability see several varieties of butterflies from egg as you venture through the 100ft long enclosed habitat. Asking the specialists there you can deepen your knowledge of the butterflies migration paths or maybe even learn your favorite butterfly's favorite leaf to chomp on.
2. Arenal Volcano National Park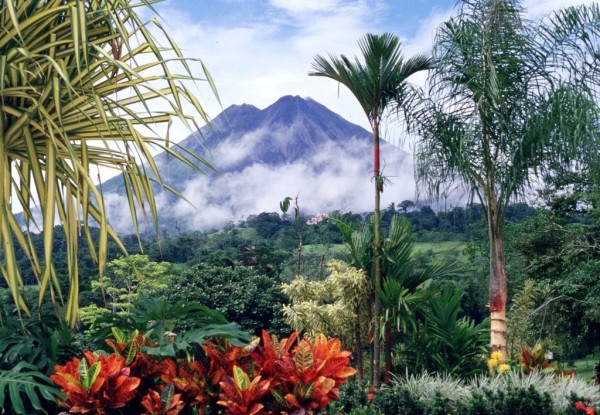 If active volcanoes and hot springs spark your inner adventurer, the Arenal Volcano National Park in northeast Costa Rica is a great choice. With several activity options from water sports on Costa Rica's largest lake-Lake Arenal to hiking trails through the lush forest, you are sure to get an adventure with your visit.
Visiting the active volcano the park is named for can be a rewarding day trip if you include a detour south east to see Cerro Chato, Arenal's dormant sister volcano. A hike on the Las Coladas Trail will bring you to a cooled lava field after venturing through the forest. There is ample opportunity for run ins with the native wildlife, or to take a dip in the hot springs. The opportunities are truly endless.
3. Corcovado National Park
If you didn't get your fill of the amazing creatures that inhabit Costa Rica's forests in the Arenal Volcano National Park, Corcovado National Park should be next. Corcovado varies in its options containing swamps, rainforests and beaches which are all teeming with various animals such as jaguars, tapirs and scarlet macaws. All this variety has led Corcovado National Park to be thought of as one of the world's most biodiverse regions. This comes as no surprise with Costa Rica itself holding 5% of the entire world's biodiversity and over 50,000 species of animals and insects. This national park is part of the Osa Conservation Area which is the largest park in Costa Rica and protects about a third of the Osa Peninsula.
The parks coastline are wintering and breeding grounds for humpback whales completing their journey south for the winter. Dolphins and killer whales are seasonal residents as well with much more ocean life that lives in the calm waters. Visiting during the "summer" provides a great chance to see the wales and even take a dip at some of the local Costa Rica black sand beaches.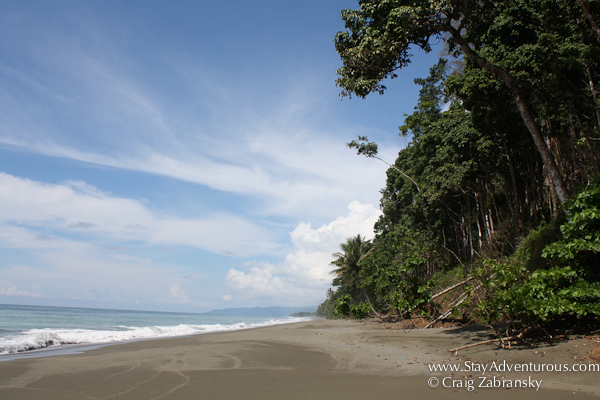 4. Mount Chirripó
Moving down to the south of these lush rainforests we find the highest mountain in Costa Rica, Mount Chirripó. The mountains peak rest at 3,820 meters (12530 feet) elevation allowing you to see both the Pacific Ocean and the Caribbean Sea on a clear day. Take in the landscape as you get to see a glimpse back in time when the islands peaks and valleys were formed.
The hike to the top of Mount Chirripó is a tough one with rugged landscape and elevation change- please only attempt if an experienced hiker. The evenings get cool and muggy bringing a whole new foggy view to the forest which can help hide elusive predators which most guides are prepared to witness. Luckily finding an experienced guide is not hard around the area and in most major towns you will find hundreds of tourist options.
These are only a taste of all that Costa Rica can offer but you can truly only understand the Pura Vida lifestyle if you visit yourself. Come blaze the rainforest trails, enjoy the food and eclectic life in one of the most beautiful places on earth.
Have you ever visited Costa Rica? If so, leave a comment with your best recommendations for experiencing  the natural wonders if this tropical island paradise.