This sunset photo was taken during my visit to the Petra archaeological site , from behind my hotel in the nearby town of Wadi Musa, Jordan. I had just checked in to the hotel maybe an hour or two earlier. Stepping outside onto the terrace, I felt that the rock formations that were visible from the hotel were stunning and unique-looking and almost otherworldly.  The sun began to set while I was admiring those hills, and I felt that they looked even more special when bathed in the colors generated by the dipping sun.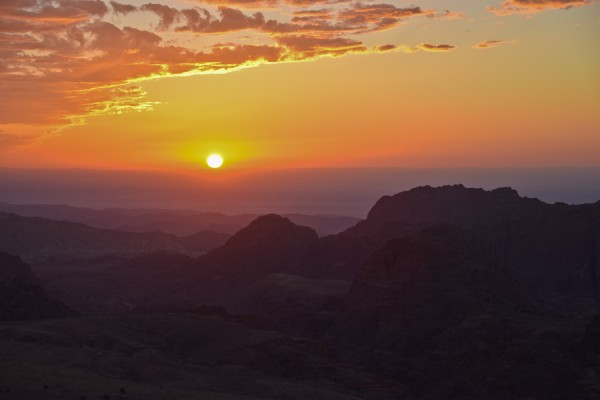 What further enhanced my appreciation for this sunset was that the next day, I was to visit the legendary, 2,000-year-old rock-carved buildings of Petra.  The Petra site would more than live up to my high expectations; but even so, the sunset got my visit off to a spectacular start on what I had thought would be a slow evening. One of the lessons of my travels is that you never know when and where you'll stumble across scenes of unexpected beauty.  Also, this Jordan sunset reminded me that while I tend to prefer visiting cities and man-made landmarks rather than outdoors-y locales, some of the best views to be had are those that nature provides for us.  -Harvey
Amen to that Harvey. Thanks for sharing your memory and the magic of a sunset in Jordan. – Craig
Harvey "H-Bomb" Silikovitz enjoys combining his passions of karaoke and travel, and so far he has karaoked in 46 countries on six continents. He blogs at H-Bomb's Worldwide Karaoke where you can see videos of his performances around the world. Also follow him on twitter @ hbomb_worldwide (instagram too). Plus, hear more about him and his favorite destinations from an interview on Staying Adventurous Episode 21 – What is your Favorite Destination.