When visiting Clearwater, Florida I made sure to sample the seaside city's cuisine and experience local culture through cuisine.  All noteworthy destinations have a special meal, a delicious dish, and in Clearwater, Florida it is all about the Grouper.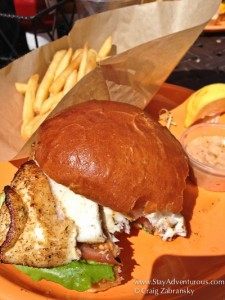 Every restaurant has grouper on the menu… You'll find grouper fingers before chicken fingers.  The fish is plentiful, fresh and tasty.  Most restaurants in town claim to have the best (or most famous) Grouper sandwich, so how do you choose?
The where usually depends on your host, the advice of a local, or even nowadays internet reviews. I received my instructions from my hosts: Head to Frenchy's.
Frenchy's Super Grouper
Frenchy's has grown from its original store which opened in 1981, but its famous Super Grouper Sandwich remains its must order. Done. No changes, just give me what made you famous.
After a day at the Super Boat Races, which included multiple VIP race viewing parties, time on Clearwater's beach and an amazing sunset on Florida's best beach sitting down for a classic sandwich became the perfect end to a fascinating weekend in Clearwater, Florida.
Stay adventurous, Craig
Special thanks to @myclearwater for hosting me in Clearwater, FL. As always my opinions are my own.