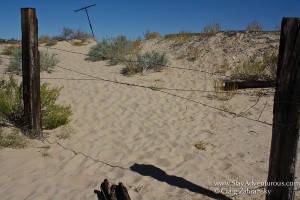 The drive across the flat, open road provided a sense of freedom heading deeper into Mexico. My adventure through Chihuahua was just beginning and I'd enjoy the scenic landscape the entire way to Chihuahua City. And in one part of the Chihuahua Desert a rare natural wonder exists – the Samalayuca Sand Dunes.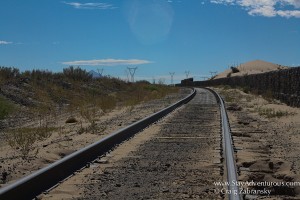 When the van approached the sand dunes visible from the highway, one of the fellow passengers, a local, suggested a spot to pull over to view them. We all agreed.
Suddenly a quick hike with great photo opportunities was added to the day's agenda. And although you can see the dunes from the highway we needed to exit and walk a little for the best views. So many of us walked across railroad tracks and under a fence all in an effort to hike up a few sand dunes. And the effort was well worth it. Yes, we climbed a few of the Medanos de Samalayuca (Sand Dunes of Samalayuca).
Medanos de Samalayuca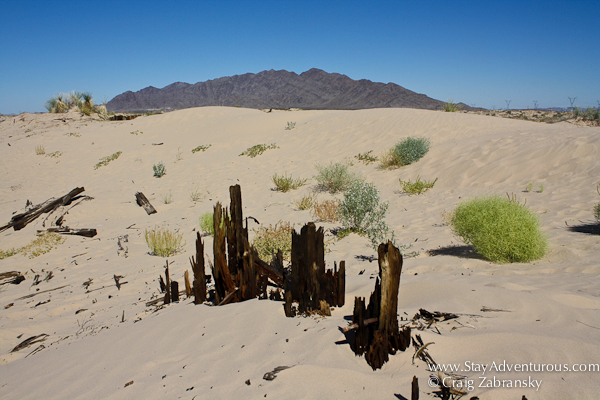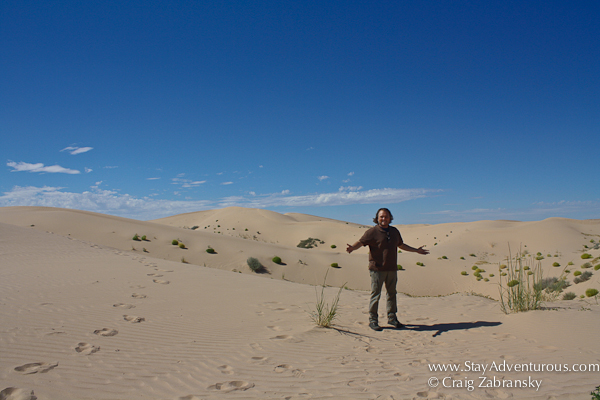 To me, just as on my hike of the famous sand dunes of Sossusvlei, Namibia, it was the silence, stillness, and the feeling of nothingness out in the distant horizon that left the biggest impression. Yes, mother nature can be impressive. And she certainly is in Chihuahua.
Stay adventurous, Craig
I'd like to thank Dave from Authentic Copper Canyon, TravelLand and the Mexican Tourism Board  for making this journey and one of my dream trips inside Mexico a reality. Ah! Chihuahua!
Also, I'd like to thank Adam of Clothing Arts for allowing me to sample a pair of the Adventure Travel Pants (great name) on my trip through Chihuahua (see photo of me) They proved comfortable and provided a sense of safety for my belongings for my trip through Chihuahua. Adventure travelers ask Santa for a pair.