Recently, I had the opportunity to spend twenty-four hours in Oklahoma City. I wasn't sure what to expect since it was my first time to Oklahoma, but I found friendly folks and a vibrant culture. Here is a look at my time in five photos.
Paseo Art District
Reading the local papers over lunch I met a local who suddenly took it upon herself to make sure I experienced Oklahoma City properly. She offered loads of recommendations and even asked if I'd follow her to the Paseo Art district. I did.
There, Kristin eventually introduced me to the curators and owners of three galleries. One introduction might lead me to pitch some of my work. Sometimes you just need to say yes. Above she modeled and become part of the display in the Ubermodern exhibit at the Paseo Originals Art Gallery.
Oklahoma City Memorial
The Oklahoma City Memorial is a must on any first trip to Oklahoma City. I spent only an hour walking the grounds and left not just impressed but also a bit teary-eyed. I believe it may be impossible to walk through the Field of Empty chairs (168 chairs including 19 smaller ones for the children lost) and not shed a tear.
Oklahoma Steak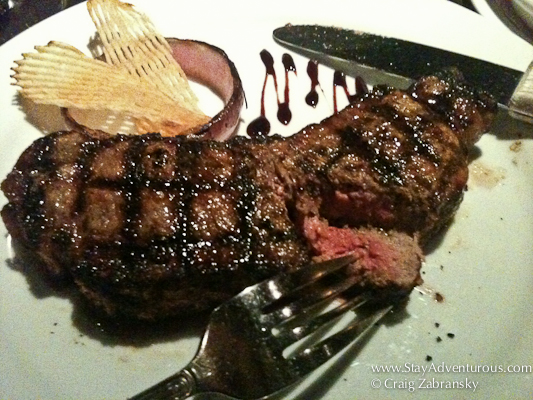 From the minute the plane  took off for Oklahoma every conversation I overheard seemed to be about Steak. Where to eat? What to order? And why it is SO good.
So After the Sunset on Lake Hefner, I drove back towards downtown and stopped at Michaels. I wasn't disappointed. The best ever, no, but it was delicious. I also found the name change interesting. I ate the KC Strip not the NY strip (same cut).
Bricktown Surprise
One of the popular neighborhoods to enjoy the nightlife, Bricktown, was a short walk from my hotel.  One bar had some live music on its second floor so we walked up stairs.  And although smoking laws recently changed in Oklahoma City, you can still smoke in bars.
Elemental Coffee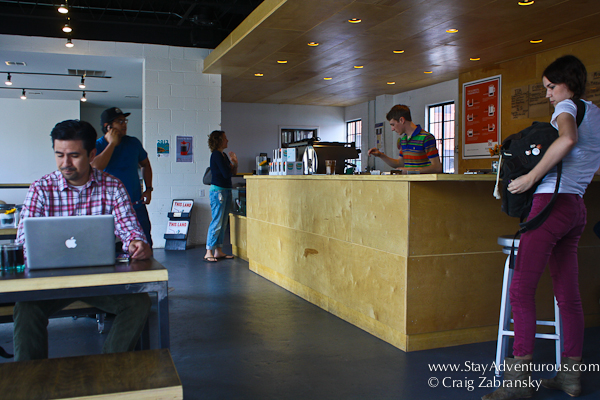 After a great night and impressed with constant warm welcome everywhere   I made one last recommended stop in Oklahoma City. It was for coffee. I headed to the minimalist cafe called – Elemental Cafe.
Talking with the owner after a virtual introduction by my Art Gallery friend Kristin, I enjoyed a cup off coffee (thank you Kristin) and discussed the culture of the city. The owner also mentioned Food Truck Fridays (last Friday of every month March-September) as a must enjoy.  Next time I'll plan my visit better.
stay adventurous, Craig