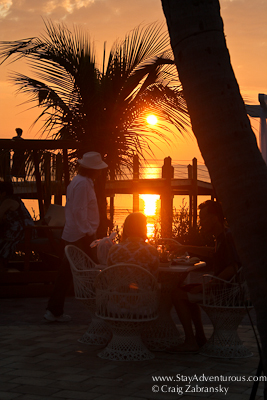 Meals at sunset in the Florida Keys can be found up and down US1, the Overseas Highway. Directions to any of the places to watch the magic will also always include a mile marker. Of the 110 plus miles (or markers) from the mainland to Key West (mm 0), I'd recommend a few along the way. One is at Marker 88, a restaurant that takes it's name from it's location.
Whether its for lunch, dinner, cocktails, or even just to watch the sunset I've never been disappointed at Marker 88. In fact, on my most recent trip, the location served me one of my best meals and provided one of the best sunsets of the trip. It often does.
With live music playing and a tropical martini in hand I watched this sunset moment and enjoyed its magic. Happy Sunset Sunday.
Travel Tip: Look for a 10% off coupon in the local travel pamphlets and definitely dine here. I'd recommend the appetizer special (seemingly always on the menu) of seared ahi tuna or try the coconut crusted prawns and follow it up with either the onion crusted Hog Fish or for lighter fare get a blackened mahi (or shrimp) caesar salad. You will not be disappointed, it is one of the best meals in the upper Florida Keys.