Ever want to see the world differently, to capture the Stay Adventurous mindset? Well now you can with Stay AdvenTours.
Join me and let's see the world through a different lens. Let's travel to discover culture, cuisine and history to understand a destination's  heart and soul. Let's travel and change our mindset about the world and alter how we view it. Let's make the stay adventurous mindset your mindset for travel and your mindset for life.
StayAdvenTours, will begin in Mexico. And there is no other place to start changing a mindset about Mexico then visiting its vibrant world capital city – Mexico City.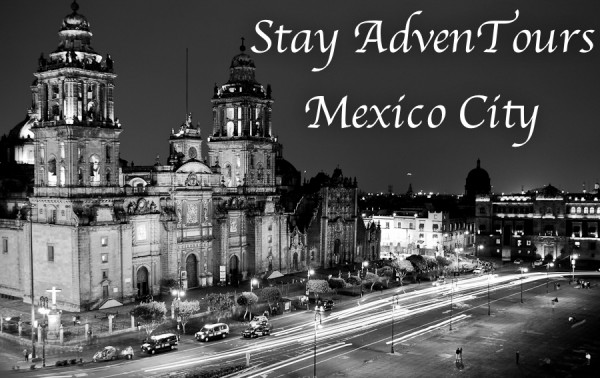 Stay AdvenTours – Mexico City
Discover one of the world's most incredible cities and feel the heart beat of a nation. Mexico City, the oldest continuously inhabited city in the Americas, offers visitors the chance to experience history, art, culture and taste some of the best cuisine in the world. This urban adventure will enable you to understand more about a nation with an incredible history and a bright future.
You will discover the true danger of this city (and country), is falling in love with it. I know, I have.
Next tour dates: Fall 2016.
See full details* under Stay AdvenTours – Mexico City.
Future Stay AdvenTours Expected
A few more Stay AdvenTours itinieraries are currently being created for future dates.
Stay AdvenTours – Mazatlan
Mazatlan may not be on your Mexican beach destination radar, but the destination has one of the most impressive seaside malecon's in the world and is located at the same latitude as Hawaii. It offers a comfortable climate for time on the water, and also contains a vibrant arts scene in its revived downtown.
Also, Mazatlan contains some of the best sunsets in Mexico (one made the Sunset Calendar) and this tour will include a special sunset photo tutorial as part of your adventure.
Dates: TBD
 Stay Adventours – Yucatan
People believe when they fly to Cancun, they fly to the Yucatan. They do arrive on the Yucatan peninsula, but the state of Yucatan is a much different travel experience than a Cancun or Riviera Maya (located in the state of Quintana Roo) beach holiday. Inside the Yucatan, dine on the delicious Yucateca cuisine, visit its capital city of Merida, stay inside famous Hacienda's, swim cenotes, and hike  lesser-known and more impressive Mayan sites. Take a listen to a sample Yucatan itinerary here.
Dates: TBD
Stay AdvenTOURing, Craig