Whether you're looking for a more exciting way to get some exercise, a thrilling stunt to impress your friends with, or just want to add some adventure to your life – extreme sports have become increasingly accessible to the broader public. What started as a craze for thrill seekers has steadily grown into a well-established industry that attracts millions of new fans each year.
No matter what your style is, be it hitting some snowy slopes, big waves, mountains or rivers – you're certain to find the extreme sport for you. Let's take a look at some of today's favorites, and a few activities you might never even have heard of!
Hit the air – Tandem paragliding: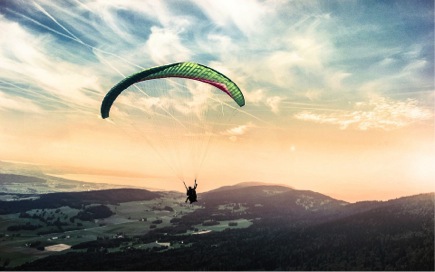 If you're one of those people that eyes effortlessly gliding birds with envy, then tandem paragliding is your chance to settle the score! Although you might be a bit nervous at first, most people are amazed at how quickly they start to feel comfortable and just enjoy the amazing view. With tandem paragliding, you are securely strapped in with an experienced glider pilot who helps you launch gently off from a cliff or mountain side – and then you swoop and sail gently through the skies at a comfortable angle – just like sitting on your couch at home!
If the weather is good, the pilot might even let you take over the controls once you feel confident enough! If you're feeling daring, they might lead you into some aerobatics if you want! Because this sport is so reliant on the weather, every single flight is different – and most participants end up coming back again and again for more.
Hit the water – Flyboarding:
Relatively new to the extreme sports scene, this slightly bizarre looking activity has attracted a lot of attention and many new ardent fans since its invention in 2012, and it's easy to see why! Part jet ski, part jet pack, participants stand in boots on a board which is connected to your accompanying watercraft with a long hose. Jet nozzles to your boots supply a powerful jet of water that lifts you up into the air as high as 15 meters! You can also use jets to aim yourself down into the water for a dive – and many participants compare the experience to what it must be like to be a dolphin! The sport is also referred to as 'hydroflying' – and experienced participants learn how to perform amazing acrobatic stunts like flips and somersaults. If you're looking for a truly unique extreme sport then be sure to give flyboarding a go!
Hit your opponents! Paintballing: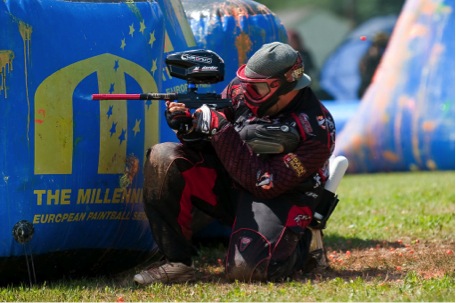 If you find making your way to the gym an endless schlep – then taking part in one or two weekly paintball games is an excellent alternative to get your blood flowing and your heart thumping! Paintball as a sport has grown phenomenally over the past decade, and part of its appeal is that virtually everyone can participate. Unlike many other team sports, there's no advantage in being bigger or stronger – as small, quick and agile participants can often outmaneuver their rivals! You can also make the game as physical as you like, running and jumping over obstacles, ducking and diving for cover as much as your fitness level will allow. And apart from anything else, it's a really, really fun way to get outdoors and enjoy some healthy competition!
It's also very safe, as you are supplied with goggles or a mask to protect your eyes. Make sure to wear good, solid shoes and a light layer of clothing that covers all your skin to avoid bruises – although direct hits are actually unlikely. This is a game that's accessible to almost everyone young and old – and you can participate solo, in your own team, or as a family. And did we mention it's a really, really fun way to get some exercise?
Keeping it safe:
Compared to traditional team sports, extreme sports actually have an impressive safety record. When accidents do happen, it's almost always because participants weren't following the rules or wearing the right protective equipment. So minimize the risk and maximize the thrill by making sure you're sorted with the right helmet or protective clothing and equipment, and prepare to feel a rush like you've never experienced!
Perhaps the best part about extreme sports is that they make physical activity fun – and let's be honest, any activity that gets us off the couch, away from the PC, and into the outdoors is as good for our health as it is for the soul!