What could be a better treat for your entire group of family and friends than a blissful evening desert safari in the Dubai desert? As the sun goes down, you're suddenly faced with the true enormity of the desert, and the peaceful silence of the ages that gently envelops you. At sunset, without the hindrance of sunlight reflecting on tiny pieces of mica in the sand dunes, you are able to see the desert in its true totality; it's a magnificent sight.
Experience the kind of sunset poets rave about, and enjoy the sort of desert experience that ancient travelers wrote about.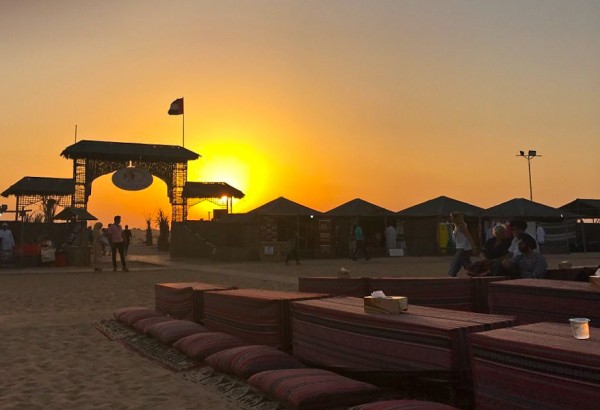 Drive To The Desert
Your desert safari experience begins when you're picked up at your hotel or residence in a luxury 4X4 vehicle at 3 P.M. in the afternoon. You'll be driven along Al Awir Road into the desert of Dubai, with several stops in the middle at beautiful spots so you can take pictures and selfies. The drive continues, providing fabulous views of the desert from every side via the tinted windows of the vehicle, till it stops for your next adventure.
Camel Caravan Ride In The Desert
You'll stop at a camel farm, which will be your first destination. If you've never been up close to a camel before, don't worry. The tour operators will put you through a crash course on efficient camel management. When everyone's ready, a camel caravan will be formed, with each guest sitting on his or her own animal. A Bedouin dressed in traditional robes will step out of the desert to guide you through the mystical dunes. Then you'll be off riding a camel across the silky dunes just as the ancient Bedouins did before you! Riding a camel gives you a great chance to observe the desert fauna and flora; watch desert reptiles and snakes scuttle away into their cool holes. You might spot a desert fox if you're lucky, though they're a rarity these days. Observe the strange shapes of the few desert plants along the way.
Sunset Experience In The Desert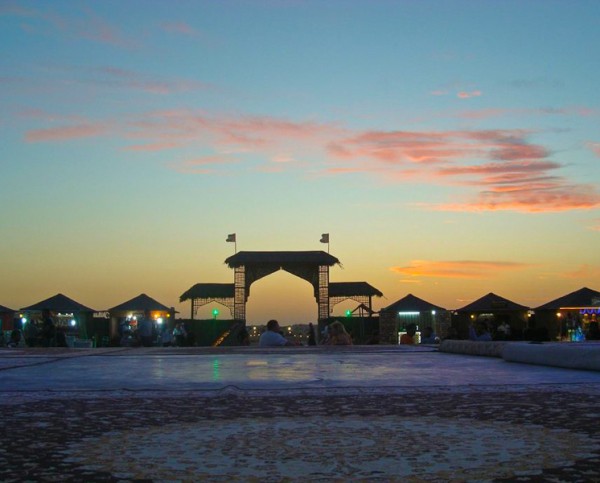 As you approach the highest dune in the desert, you'll stop for a fabulous view of the sunset over the desert dunes. Do not forget to bring a good-quality camera and a tripod. Enjoy the sunset and take as many pictures as you want. Sunset photography is one of the highlights of the desert safari tour. Who knows, your desert sunset pics might be blown up and hung in someone's living room some day! Sunset in Dubai desert safari is a not-to-miss experience. Keep your camera loaded and your tripod ready to catch the best shots of the incredible sunset as the red ball goes down over the darkening dunes.
Camp Adventures Ahoy!
Once at the camel, you will be helped off your mounts, and taken to a spacious tent whose design is based on the Bedouin tents of old. Sit back and relax for a bit with a cup of sweet, thick Arabian coffee. Then get ready for your desert adventures!
Sand Skiing: You'll love gliding on the smooth dunes while lying on your belly on a sand board, similar to a water ski board. As you speed down the dunes, feel free to scream in delight, as this is an adventure you can experience only in a desert.
Dune Bashing: You'll be driven over the dunes in our 4X4 vehicles at a fast rate, jumping over smaller dunes and speeding over larger ones. You'll love the feeling it gives you – akin to riding a rollercoaster of enormous size!
Quad Biking: Ever considered riding a quad bike on desert dunes? The desert sands are always shifting, small dunes melting into the desert floor. Riding a quad bike on shifting sands is not easy. If you're fond of high-octane adrenalin sports, do give this one a tray.
Camp Entertainment and Dinner

Back at the camp, refresh yourself and put on some Bedouin robes provided by your tour operator. Stretch your hands and feet towards the henna artist to have them painted in beautiful Arabian designs, which will dry quickly in the desert heat. Watch a belly dancer gyrate to Arabian music as you smoke a shisha pipe, working up an appetite for the international buffet and BBQ dinner that awaits you!
As you give your tastebuds a good workout, the belly dancers end their dancing and the Tanura dancers take on the stage. Watch the fascinating male dancers twirl like desert dervishes, round and round, as you enjoy a fabulous meal under the cooling desert skies. Alcohol is not served, as a rule, but you can enjoy as much coffee and cool drinks as you like.
Overnight Stay At The Desert
If you've signed up for an overnight stay, get ready for the most romantic experience of your lives. With reputable tour operators such as Rayna Tours guests can be assured of excellent amenities throughout your desert safari tour. If you have a camera and a tripod, ready them and set them aside for some cool sunrise and sunset photography and also to watch the night skies and stars. Be sure to be up at sunrise to watch the most magnificent sight you've ever seen. Watch in awe as the desert sun reaches its golden tendrils over the dark dunes, creating an otherworldly tapestry of light and dark. It's an incredible experience, one that we urge you not to miss.
Conclusion
The evening desert safari in Dubai offers an incredible, out-of-this-world experience. For the regular person with his or her 9 to 5 routine, the desert is a strange and mystical place that seems far removed from the rest of the world, almost like a different planet. Do leave your electronics at home, as cellphone signals do not reach into the desert. Also leave behind anything you won't require in the desert; too much luggage creates logistics issues. Enjoy your desert experience to the fullest and be sure to come back soon for a repeat experience!
This is a guest post thanks to Neha of dubaiwikia.com