If you're into hiking and your level of experience is above average, it's time to choose a new adventure. South America has a lot to offer to all hiking enthusiasts, and that's why we decided to discuss the top 5 most adventurous trails in South America.
Huayna Potosí, Bolivia
With this trek, you'll be starting in La Paz and its highest peak reaches 6,088 meters. The whole hike will take you two-three days, and you'll also need some good rock climbing abilities. The Huayna Potosí means you'll be summiting an Andean mountain, which starts by climbing up the glacier. Contrary to expectations, this first part of the Andean summiting isn't that hard. But since the terrain becomes more inclined as you go up, you'll find the difficulty level increases.Since this is a very high altitude, the rarefied air, and oxygen increase will make it even harder for you to breathe. That adds to the difficulty, along with the few hours of little rest before trekking to the peak. You'll need to sleep for just three hours at the Campo Argentino, before moving up at 3 a.m. for the five-hour journey. But in the end, the view is magnificent. You'll see all around you: the magnificent mountains, the town La Paz where you started from, Lake Titicaca and the Cordillera Real.
Refugio Grey to Refugio Las Torres, Chile
The whole walk time for this hike should last about 15 days. You'll be going on two routes that wax and wane along the peaks of Torres del Paine in Chile, and you'll marvel at a majestic glacier and various glacial lakes. The first one is a W-Trail, and the second is a circuit, both in the Torres del Paine National Park in Patagonia. The 24 rocky summits have peaks that vary in height from about 2,200 meters to 3,050 meters tall, and they all guard a lush forest that's filled with rivers, waterfalls, and glacial lakes. Some of the snowy peaks give way to the Patagonian ice field. Since this is the second extrapolar ice field, you'll be definitely doing a challenging hike. You'll be passing through enough valleys, and going over enough boulders to tire you out, but there's plenty of refuges to camp.
Valley of the Volcanoes and Cotopaxi Volcano, Ecuador
Located in Ecuador, this two-day hike is also a pretty difficult hike. You'll be starting in the city of Quito, which is the capital city of Ecuador. The highest point you'll reach is just a bit under 6,000 meters, and it pertains to the Cotopaxi Volcano peak. Needless to say, not many people can climb a volcano, and that's what makes this journey so difficult. In fact, there might be little to no fresh water available here, which is why you should pack the best water purification tablets you can find. The Cotopaxi National Park is a great place to start your hike, considering there are amazing vistas here.
The first camp spot is in this park, but you'll only be able to sleep for a little time after midnight before starting off. The snowline is the first piece of great scenery you'll see, and it only takes you 30 minutes to get to it. After that, you'll be hiking for about 5 more hours until you get to the peak. In the meantime, you can marvel at the volcanic landscape, which included a crater lake too. Located amongst all the surrounding volcanoes, the Quiltoa lake is a bright green Laguna that took birth in the place of a volcano. The steep cliffs that surround it are another reason why you'll be completely amazed by the view.
Fitz Roy Trek, Patagonia, Argentina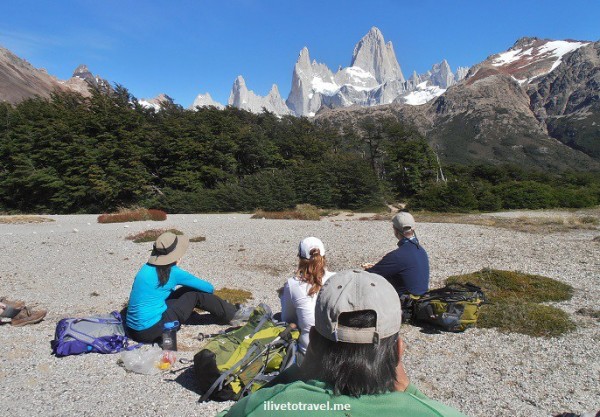 Starting in El Chalten, in southern Argentina, you'll be walking for five days inside the Los Glaciares National Park. The highest point you'll reach here is just 2,900 meters, but you'll also be starting at a lower altitude. The best thing about this trek is feeling belittled by the imposing Fitzroy peak which looks like a granite monster. There's also a lake below it, where the sun rays are reflected with each sunrise.
The Cerro Torre is another monumental peak, but you'll also be enjoying the fast rivers and alpine lakes. You might even get to watch an avalanche, which is why you should take the best snowshoes you own. This alpine landscape is varied, and you can even bring your climbing shoes if you want to sneak in some rock climbing too. Alternatively, you can prolong your trip to the nearby Lago de Los Tres or Laguna Sucia (The Dirty Laguna), which only take you a day each.
Greater Patagonian Trail, Chile/Argentina
After discussing some routes that only last for a few days, albeit difficult, we can up the level with this trail. The journey is almost 875 miles, lasting 100+ days, so it's definitely not for the faint-hearted. This is the longest route in South America, which makes it the most difficult here. The fact that you'll walk from December to March makes it all the harder. But you will pass through the magnificent Patagonian Andes and their awe-inspiring landscape. The volcanic fields with no vegetation give way to luxuriant, green forests, which are in turn guarded by snowy peaks. And since this isn't a marked trail, you'll be adventuring in the wilderness alone.  That means you need to plan your journey and be sure that you have the physical and mental endurance to make it through.
You need top survival abilities, including emergency preparedness and navigation, since you'll be cutting new trails of your own. That's because the set trails often fade or are blocked, as you'll be walking on remote dirt tracks or old roads with no one around.
Where will you go?
These are all routes for expert hikers, but some are more difficult than others in terms of elevation, accommodation, marked trails and days spent on the move. With such amazing hiking spots to choose from, we're curious what you'll decide on.
-Rebecca
Rebecca Crawford loves hiking all over the world, from beaches to her favorite the 16 day hike to Everest Base Camp Trek where she spends extra time soaking in the adventure. You can also find her work on HikingMastery.com. Also, special thanks to my friend Raul Pino for supplying a few images from his time in Patagonia. Find him at ilivetoTravel.me