Viking Ships are back in America. Yes, Viking Cruises have positioned one of their ocean liners in the Americas. The relatively new Viking Star (christened in 2015) is taking up residency in the Caribbean.
The cruise company that transformed the river cruise industry is now venturing into the ocean liner market with a release of multiple sister ships and multiple itineraries across the globe over the next few years. I recently had the pleasure of sailing on board the Viking Star from New York to San Juan during its final leg of positioning to experience the Viking product.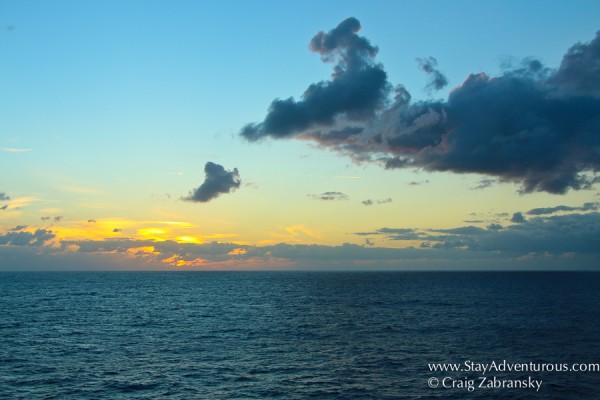 Part of any sailing, I always make my way to an open deck and view the sea during the golden hour to take aim at capturing and more importantly appreciating the sunset. Although always a beautiful moment, cloud cover each night muted the full display of color. Nonetheless, each night I made my way and enjoyed the sunset.
A Viking Star Sunrise at Sea
On the southbound sailing, my cabin balcony faced east, not west, so I didn't have a sunset view, but rather a sunrise view on each of my four mornings. And reflecting on the voyage perhaps this made sense. Sure I prefer the sunset, but for Viking Cruises as they enter the ocean liner market and the Americas, it marks a new beginning. A sunrise at sea.
I realized this mid cruise and one morning decided to order room service, essentially coffee a croissant, for a sunrise breakfast on the balcony. With the help of room service (included with Viking) serving a hot breakfast (and also serving as an alarm) I managed the early wake up to witness the sunrise at sea.
This was my first Viking experience, and I'll discuss my discoveries during my next Staying Adventurous podcast episode out this coming week. So stay tuned.
Stay sailing, Craig
I was a guest on board the Viking Star, but my opinions, words, and the photos here are my own.